Schiff: Trump 'has done far worse than anything Nixon did'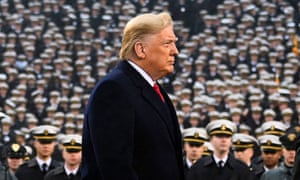 Donald Trump has done "far worse than anything Nixon did", a leader of the impeachment process in the House said on Sunday, adding: "The question is why are Republicans placing this president above their oath of office."
Nixon resigned in 1974, before he could be impeached over the Watergate break-in and his efforts to cover it up.
Trump faces two articles of impeachment related to pressure he applied on Ukraine to launch political investigations that would help his bid for re-election as well as obstruction of Congress by blocking the appearance of key witnesses before congressional hearings.
On ABC's This Week on Sunday, Adam Schiff, chair of the House intelligence committee, said: "If anything this president's conduct is far worse than anything Nixon did, far more sweeping in its obstruction of accountability, far more damaging to our national security and the cover up that was Watergate."
A full vote of the House of Representatives is expected on Wednesday. Should the articles pass by simple majority – as expected despite opposition from swing-seat Democrats including Jeff Van Drew of New Jersey, expected to become a Republican over the issue – Trump will become only the third president to be impeached. Andrew Johnson, in 1868, and Bill Clinton, in 1999, survived trials in the Senate.
Trump is set to face trial in January. Majority leader Mitch McConnell has said the president will not be convicted and added that he is co-ordinating closely with the White House on strategy.
Democrats have protested but on Saturday the South Carolina Republican senator and Trump ally Lindsey Graham stoked their wrath further, telling a CNN interviewer in Doha he was "not trying to be a fair juror here" and that "this thing will come to the Senate and it will die quickly, and I will do everything I can to make it die quickly."
On Sunday the Kentucky Republican senator Rand Paul predicted on CNN's State of the Union his party would vote as a block in the Senate to acquit Trump, without even defections from critics of the president, such as Mitt Romney of Utah, or electorally vulnerable moderates such as Susan Collins of Maine.
Asked how he could square his predetermination of the outcome of the trial with his role as an impartial juror as laid out in the US constitution, Paul said: "This is a very partisan thing. This is a disagreement, people on the Democratic side don't like President Trump so they decided to criminalise politics."
Paul claimed making up his mind before the trial was consistent with his constitutional duties. Other Republican senators have gone further in expressing their disdain for the impeachment process.
Schiff called this an "excess of extreme partisanship where it is more important to one party that the president of their party remain in office than what he does to the country and that I think puts us deeply at risk".
Jerry Nadler, chair of the judiciary committee which drew up the articles of impeachment after Schiff's intelligence panel staged private and public hearings, told ABC Trump posed "a continuing threat to the integrity of our elections now".
Asked why impeachment mattered if the outcome in the Senate was indeed a foregone conclusion, he said: "This is not a one-off.
"Impeachment is not a punishment for past behaviour. This president sought foreign interference in the 2016 election, he is openly seeking foreign interference in the 2020 election and he poses a continuing threat to our national security and the integrity of our elections to our democratic system itself.
"We cannot permit that to continue."
America faces an epic choice…
… in the coming year, and the results will define the country for a generation. These are perilous times. Over the last three years, much of what the Guardian holds dear has been threatened – democracy, civility, truth. This US administration is establishing new norms of behaviour. Rampant disinformation, partisan news sources and social media's tsunami of fake news is no basis on which to inform the American public in 2020. Truth is being chased away. But the Guardian is determined to keep it center stage.
You've read more than 22 articles in 2019. More readers in the US than ever before are reading and supporting the Guardian's independent, fact-based journalism. We now have supporters in every state in America. The need for a robust press has never been greater, and with your generous help we can continue to provide reporting that offers public scrutiny and oversight. And, together, we can help the truth triumph in 2020.
"America is at a tipping point, finely balanced between truth and lies, hope and hate, civility and nastiness. Many vital aspects of American public life are in play – the Supreme Court, abortion rights, climate policy, wealth inequality, Big Tech and much more. The stakes could hardly be higher. As that choice nears, the Guardian, as it has done for 200 years, and with your continued support, will continue to argue for the values we hold dear – facts, science, diversity, equality and fairness." – US editor, John Mulholland
On the occasion of its 100th birthday in 1921 the editor of the Guardian said, "Perhaps the chief virtue of a newspaper is its independence. It should have a soul of its own." That is more true than ever. Freed from the influence of an owner or shareholders, the Guardian's robust editorial independence is our unique driving force and guiding principle.
We also want to say a huge thank you to everyone who has supported the Guardian in 2019. You provide us with the motivation and financial support to keep doing what we do. We hope to surpass our goal by early January. Every contribution, big or small, will help us reach it. Make a year-end gift from as little as $1. Thank you.