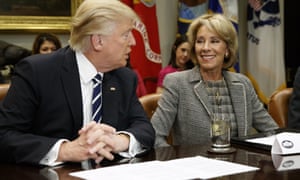 When Donald Trump appointed Betsy DeVos secretary of education, America's school-going people worried it was only a matter of time before she brought back debtors' prison for student loan defaulters and subcontracted out K-12 education to Nickelodeon.
Now Donald and Betsy are one step closer to making that vision a reality, with $10.6bn in cuts to crucial education programs, including a student loan forgiveness program first implemented by a Republican administration.
According to budget documents obtained by the Washington Post, the Trump administration plans to end the Public Service Loan Forgiveness (PSLF) program, which more than 400,000 people are counting on as part of their financial future.
Signed into law in 2007 by George W Bush as part of the College Cost Reduction and Access Act, the program offers those whose jobs benefit society – government and non-profit employees – the chance to have their student loans forgiven after 10 years of on-time, income-based payments. The amount of money this would cost the government would presumably not exceed what it would have cost to simply pay these workers more.
In an effort to make taxpayers foot the bill for their depraved lives of leisure, more than 400,000 aspiring teachers, social workers, public defenders, and others took the government up on its offer. It might not be the only reason they chose these lines of work, but it certainly factored into the decisions of many. The first loans were – and as of now, still are – set to be wiped away in October , a date the program's first participants have no doubt been counting down to for nearly a decade.
Unfortunately for these poor saps, two rich kids who have never taken out a student loan in their lives and only entered "public service" after years of fortune-building in the private sector are now in charge of the federal education system. And they don't care if they attract people to the public and non-profit sectors. They're not even convinced these sectors should exist. It's also possible DeVos's own experiences in government have taught her public service is something you pay for the privilege of doing, not the other way around.
It's uncertain whether this dream team would end the program for those already participating or if they would simply stop taking new applicants. It's possible the former would open them up to countless lawsuits. But a pending court case may create precedent on whether borrowers can have their membership in the program retroactively revoked, which is enough to strike fear into the hearts of some.
Even if they just ended the program for new applicants, it would be a major blow to sectors such as – what do you know? – education, which is already struggling to attract and keep quality talent. Which, come to think of it, might be exactly what DeVos wants.
Why bother to keep public schools open if they're struggling to recruit teachers? Why bother improving said schools if they're about to be privatized, anyway? And why hire someone with a master's degree to teach our children when a private contractor could get a poorly trained lush for half the price? It's only the future of America we're talking about.
To be fair, the Obama administration once proposed capping the amount each borrower could have forgiven at $57,500, but that proposal never went anywhere. Even if it had, that's still a more reasonable compromise than capping it at zero.
This news should surprise no one who's been paying attention to DeVos's actions in office. Just last month, she rescinded several Obama administration policy memos designed to incentivize borrower-friendly behavior on the part of lenders receiving government contracts. Her reasoning: "This process has been subjected to a myriad of moving deadlines, changing requirements and a lack of consistent objectives." Translation: "If you wanted to go to college without incurring crushing debt, you would have been born an heiress, like me."
You may or may not be surprised to learn DeVos and her husband have copped to a considerable financial stake in the student loan industry, specifically: a debt collection agency called Performant Business Services that does lucrative business with the government.
Following her ethics review, she agreed to divest from this company within 90 days of her confirmation, but it's clear which side her bread is buttered on. You can't divest someone of their ideology. She clearly still thinks the debt collection industry has a right to prey on young people who are trying to go to school, and anyway, she's not going to have this job forever.
Whether or not they succeed at hurting pre-existing PSLF participants or merely potential ones, this plan represents two more prongs of the Trump administration's multi-part assault on public education and the non-rich. Here's hoping the investigation into Trump's Russia scandal keeps him from finishing the job on this … or anything else, for that matter.