An unguarded phrase – 'grab them by the pussy' – stuck because it reflects real experiences with the Republican candidate. Now women could be his nemesis
Back in the spring, Jill Harth didn't want to talk. Neither did a number of the other women who had crossed paths with Donald Trump. But few of them had documented their encounters so thoroughly as Harth, whose 1997 lawsuit alleging "attempted rape" against Trump is a matter of public record.
It wasn't surprising that having kept quiet on the matter for almost 20 years, she wasn't jumping at the chance to respond to a reporter's phone call.
But a few months later, her lawyer got in touch. The impetus, as Harth put it in an emotional hour-long interview at the Guardian's New York office, was Trump's repeated insistence that any woman alleging misbehaviour on his part was lying. His eldest daughter Ivanka's widely aired insistence that "my dad is not a groper" pushed her over the edge. "What did she know?" Harth asked. "She was 10 years old."
A former Trump business associate from his early beauty pageant industry days, Harth said that the tycoon behaved inappropriately with her from the day she met him. The first presentation she gave with her boyfriend and business partner George Houraney back in December 1992 marked not just the beginning of their partnership with Trump, which Harth described as the professional "highlight" of their career, but also, the beginning of a steady stream of unwanted sexual advances, culminating in the alleged assault in one of the children's bedrooms at Mar-a-Lago, his ostentatious Florida mansion.
"He pushed me up against the wall, and had his hands all over me and tried to get up my dress again," Harth recalled, "and I had to physically say: 'What are you doing? Stop it.' It was a shocking thing to have him do this because he knew I was with George." If she had known Trump a bit better at the time, she might not have been so shocked.
Today, the examples of Trump's misogyny, casual and calculated alike, are as well-rehearsed as they are reprehensible. But something has changed again. Last week, the tape of his conversation with Billy Bush brought them front and centre in the American conversation; this week, further testimony from two women who spoke to the New York Times, alleging that his claims back then were more than mere words, have ensured that the spotlight will not shift. His unguarded phrase, "grab them by the pussy", has stuck because it chimed with the testimony of Jill Harth, and so many other women who have spoken out about their experience with Trump. As a former Miss Utah, Temple Taggart, put it to the New York Times when remembering how he had introduced himself by kissing her on the lips: "It was like, 'Thank you.' Now no one can say I made this up," she said. In this context, the stories of the women who spoke up about Trump have taken on fresh weight: now undeniable as a map to his values and treatment of women for more than 40 years.
***
Jill Harth was not the only woman who got in touch with me about Trump this year. Kari Wells, a former model and Bravo actor, described her own experience with Trump's sexual entitlement back in December 1992 when she was modelling in Aspen, Colorado, at the Ritz Carlton hotel and the Little Nell Hotels doing various fashion shows.
Trump was dating a girlfriend of hers at the time, the model Kelly Ann Sabatasso, so she was friendly in passing when she saw him. "I kept running into him and her at the different hotels and at the fashion shows," she said. "He asked me what time I was doing the show until, and I just thought it was polite conversation, so I told him it ended around 6pm. He asked if I would like to come up to his room as Kelly was coming over and he thought that the three of us could have some fun together. He pushed his room key forward on the table for me to pick up." At the time Wells was in her early 20s; the age difference, as well as the abruptness of his proposition, shocked her. She quickly made up an excuse, but she kept thinking about the exchange. "What gave him a right to ask me such a thing? Just because I had been polite and friendly towards him, and the fact that I was a model?"
In the case of Alicia Machado, whom I interviewed in Los Angeles where she now lives, it would ironically be the widely available video footage of the humiliation he subjected her to after the 1996 Miss Universe gained a modest amount of weight that would devastate Trump. Venezuela-born Machado became an American citizen this year with the express purpose of voting against him. And in an hour-long interview, interrupted only by a phone call from her mother, Machado described the infamous incident in which Trump turned a forced workout into a press event – "I was in some gym in New York like a mouse," she said. "Look at that mouse: how she run, how she jump, how she make exercise. Like that. In that moment is when … problems come to me and start." Machado subsequently suffered from anorexia and bulimia.
A week later, Hillary Clinton would tell Machado's story on the debate stage, blasting out a media package to back it up afterwards. It was a devastating moment for Trump, not just on the debate floor, but in the week that followed, with Trump tweeting out defensive comments about Machado's non-existent "sex tape", part of a larger effort by him and his campaign surrogates to tar her character with claims irrelevant to the issue at hand; her readily verifiable account of her experience with Trump.
Machado had the evidence to prove her case against Trump, from video to a dossier of press clippings, precisely because Trump had wanted to document the moment. The trouble for Trump was, in the intervening 20 years the context changed and society had progressed. He, meanwhile, had not.
It's one thing for Clinton to do things like call Trump a bully or even for his biographers to do so – as practically every one of them will. It's another to see it and feel it viscerally, as we can in Machado's story. And hers was not even the most compelling story I heard on Trump's bullying. That dubious distinction belongs to former beauty queen Sheena Monnin, sued by Trump for $10m when she made a negative comment on Facebook about his pageant. She had thrown a stone in his eye and now Trump was coming down on her with Goliath force.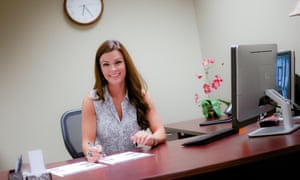 "There was no way I could have afforded to pay that off and frankly, he had to have known that," she told the Guardian this summer. In a more rational world, Monnin would not have spent years locked in legal battle with a man worth many billions more than she'll ever see in her lifetime for what amounted to a slight on Facebook; but in telling her story years later, as an increasing number of women are stepping forward to do, she found a measure of vindication and dignity.
It is perhaps unsurprising that an exploration of how Trump got to this point takes you right back to his mother. Mary Trump, her son explained in The Art Of The Deal, was an unmatchable ideal. "Part of the problem I've had with women has been in having to compare them to my incredible mother, Mary Trump," he wrote (or his ghost did). "My mother is smart as hell."
At the New York Military Academy, where he had been sent after an incident involving switchblade knives, he quickly developed the measure of success that would persist. He was seen with beautiful women on his arm so often he was voted ladies' man of his class. And as he grew up, Trump never lost his adolescent way of seeing women as trophies – or of measuring himself in the world.
When he met his first wife Ivana Trump, a Czech American socialite skier whom he married in 1977, Trump recalled being impressed by more than her looks. "Good looks had been my top – and sometimes, to be honest, my only – priority in my man-about-town days," he recalled in Trump: Surviving at the Top. "Ivana was gorgeous, but she was also ambitious and intelligent. When I introduced her to friends and associates, I said, 'Believe me. This one's different.' Everyone knew what I meant, and I think everyone sensed that I found the combination of beauty and brains almost unbelievable."
Astonished as he was, his marriage to Ivana lasted over a decade, long enough to have three children. When his wife's ambition started to grate, and rumours of his philandering persisted, he moved on to Marla Maples – "nice tits, no brains", as he would later sum her up. Ivana, in a sworn deposition from the time, pointed not just to these infidelities but also to her own violent rape, following a fight. She has since softened her stance on the story she gave under oath, telling one biographer she didn't mean rape in the "literal" sense, and is now bound from discussing it by a non-disclosure agreement.
Trump's tabloid life was never even put on hold when he took up with Marla – Jill Harth's allegations occurred after he had taken up with Maples. They married in 1993, but the relationship was never strong and the rumours of affairs never quieted. Six years and one daughter – Tiffany Trump – later, Maples would become his new ex-wife. Trump blamed Marla, not himself for the destruction of their marriage, as he had blamed Ivana before her. He accused her of not making him dinner in a timely manner, and not being supportive enough of his long hours at work, but when it came to giving her emotional support all consideration went out the window: "One thing I have learned: There is high maintenance. There is low maintenance. I want no maintenance," he wrote in The Art Of The Comeback
That much at least has not changed. Now on his third marriage to Melania Trump, 24 years his junior, he still brags about never changing diapers.
***
Alongside that marital history, and the litany of other charges against him, the stories of Machado, the fat-shamed beauty queen struggling with body image, Monnin, the bullied defendant fighting Trump's machine, and Harth, the sexually assaulted woman who thought she was launching a business proposition, paint the picture of a domineering man. But all three women chafed at the notion of being defined by him.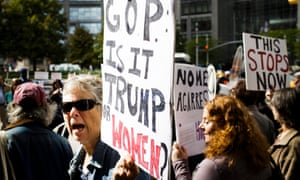 "I don't like to say his name," Machado told me, when prompted at one point to indicate she was talking about Trump. She wanted to talk about the telenovelas she's starring in, the new business ventures she has, the home she keeps with her mother in Los Angeles and the seven-year-old daughter she adores. She wants me to know who she is now, not just who she was then.
Mostly though, like every woman I interviewed, she wanted her story to be about her.
Each woman came to me for different reasons: Harth was sick of hearing Trump tell her story; Monnin, who recently published a self-help book, wanted to help other bullying victims; Machado wanted to make sure her abuser wasn't the next president.
But none of them wanted to talk about Trump. They did it because they felt that they had to, or someone else would. One surprising legacy of Trump's campaign is that, as he falls in the polls, it is women, perhaps recognising something of their own life experiences in what happened to these three, who look poised to rise up and denounce him and the strain of political misogyny he represents.
As the writer Rebecca Traister asks: "Which is worse, threatening to grab someone by the pussy or forcing someone to carry and give birth to a baby that is the result of rape? Which is worse: Popping a Tic Tac in preparation for forced extramarital kissing with a stranger or actively discouraging women's full participation in the workforce? The answer is: None of these is worse; they are all of a kind."
Early in the campaign, women in the first primary state of Iowa sought to defend their votes for Donald Trump, and even at the time, it felt like a stretch. His rejection by African Americans and Latinos is overwhelming, and now independent voters are following suit. Single women in particular – a growing coalition expected to make up a full quarter of the US electorate this year – are poised to deal Trump a devastating blow.
The morning after the election, Americans will wake either to the first female president in their history, or one of the most regressive misogynists ever to hold office.
If Trump is to lose, he will have been undone by the very groups he has sought to keep down – by immigrants, minorities and women, most especially by women.
How will Trump feel, this man who has regarded women all of his life as mere adornments, to understand that he was beaten, at last, by a woman?