Nato 'unprepared' for Russia threat, say MPs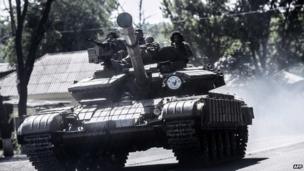 Nato is poorly prepared for an attack on a member state from Russia, an influential group of MPs has warned.
The Commons Defence Committee said the recent Ukraine conflict showed "serious deficiencies" in Nato's preparedness to counter threats – and "radical reform" was needed.
The MPs said the risk of a conventional assault remained low, – but warned over methods such as cyber-attacks and the use of irregular militias.
Nato said it would study the findings.
The committee called for changes including:
Establishing a continuous presence of Nato troops and military equipment in "vulnerable" Baltic states, including Estonia, Latvia and Lithuania
Adding unconventional threats such as irregular militia and cyber-attacks to Nato's Article 5 commitment for all members to come to the aid of a member which is attacked
"Dramatic" improvements to existing rapid reaction forces.
Large-scale exercises involving military and political leaders from all Nato states
The MPs also warned Nato "may not have the collective political will to take concerted action to deter attack".
And they said public opinion may not support the use of military force to honour Article 5 commitments in a confrontation with Russia.
"Nato is currently not well-prepared for a Russian threat against a Nato member state," the report said.
"A Russian unconventional attack, using asymmetric tactics – the latest term for this is 'ambiguous warfare' – designed to slip below Nato's response threshold, would be particularly difficult to counter."
'Too complacent'
Tory MP Rory Stewart, who was elected chairman of the committee in May, said: "The risk of attack by Russia on a Nato member state, whilst still small, is significant. We are not convinced that Nato is ready for this threat.
"Nato has been too complacent about the threat from Russia, and it is not well-prepared.
"Even worse, the nature of Russian tactics is changing fast – including cyber-attacks, information warfare, and the backing of irregular 'separatist groups', combining armed civilians with Russian Special Forces operating without insignia," said Mr Stewart, a former soldier and diplomat who has worked in the Balkans, Afghanistan and Iraq.
"We have already seen how these tactics have been deployed by Russia and its proxies in Ukraine to destabilise a Nato partner state, annex part of its territory and paralyse its ability to respond."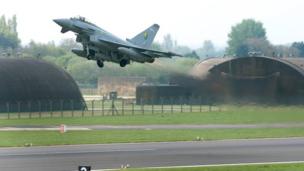 The report said that while Nato had not seen Russia as a territorial threat for 20 years, recent events meant it was "forced to do so".
"Events in Ukraine this year, following on from the cyber attack on Estonia in 2007 and the invasion of Georgia by Russia in 2008, are a 'wake-up call' for Nato", it read.
"They have revealed alarming deficiencies in the state of Nato preparedness, which will be tough to fix."
The committee also called on the government to show leadership when it hosts a Nato summit in Wales in September.
The report added: "The UK government should take the lead in ensuring that the Nato summit addresses these threats in the most concrete and systematic fashion."
'Adapt to change'
Nato spokeswoman Oana Lungescu said: "We have not seen the report by the UK Defence Select Committee but we'll study it carefully once it's published.
"As early as March, the Nato Secretary General Anders Fogh Rasmussen called Russia's military actions in and around Ukraine a wake-up call for the alliance and for the wider international community.
"He has also made clear that Nato must adapt to a changed security environment and that the Wales Summit in September will be an important milestone in that process.
"Nato has already taken measures to reinforce collective defence, especially for our eastern allies, with more planes in the air, more ships at sea, and more exercises on the ground.
"All 28 allies are contributing, and the United Kingdom is playing an important role in policing Baltic airspace and planned exercises in Poland."
The North Atlantic Treaty Organisation, which was formed in 1949, is predicated upon a series of collective security guarantees between its members.
The alliance has expanded widely in the past 15 years, admitting states that border Russia and three – Latvia, Lithuania and Estonia – which were once part of the Soviet Union.
'Future threats'
Earlier this week, it emerged that the UK is to send a "full battle group" of 1,350 military personnel to take part in Nato manoeuvres in Poland to support allies in eastern Europe.
It is the UK's largest such commitment to the region since 2008.
Labour said the report underlined Nato's position as the "cornerstone" of UK defence policy and the "sole organisation for collective defence".
"The government must demonstrate UK leadership on the international stage at the upcoming Wales summit," said shadow defence secretary Vernon Coaker.
"Recalibrating Nato as a military and political alliance to deter future threats must be a priority for this government which has failed under David Cameron to think strategically about future UK defence capabilities."