Kerry holds urgent talks as US-Saudi rift deepens over Middle East policy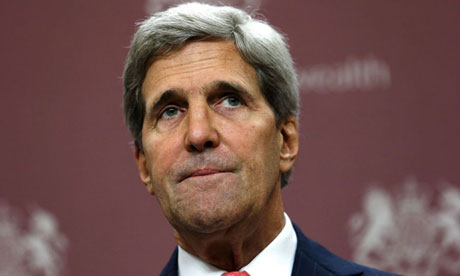 A deepening diplomatic rift between Saudi Arabia and the US burst open on Tuesday after secretary of state John Kerry acknowledged that Washington's key strategic ally had serious misgivings about US foreign policy in the Middle East.
Kerry held urgent talks with his Saudi counterpart in Paris on Monday amid complaints from Riyadh that the US was not doing enough to help Sunni-dominated rebels in Syria following a decision not launch US military action.
"We know that the Saudis were obviously disappointed that the [Syria] strike didn't take place," Kerry told reporters in London on Tuesday.
"It is our obligation to work closely with them – as I am doing," he added, referring to multiple meetings he had on Monday with Saudi foreign minister Prince Saud al-Faisal. "The president asked me to come and have the conversations that we have had."
Kerry insisted relations remained fundamentally sound, but news of the meetings appears to confirm reports in the Wall Street Journal that the Saudis had threatened to scale back their regional co-operation with the US in protest at what it saw as a misguided Middle East strategy.
The Journal said Saudi Arabia's intelligence chief, Prince Bandar bin Sultan, who is leading the kingdom's efforts to support rebels fighting Syrian president Bashar al-Assad, had invited diplomats to Jeddah over the weekend to voice Riyadh's frustration with the Obama administration and its regional policies.
Reuters also quoted Prince Bandar telling European diplomats that the kingdom would be making a "major shift" in relations with Washington over perceived inaction towards the conflict in Syria, and a possible rapprochement with Iran over its nuclear program.
Saudi Arabia is understood to be upset at perceived US weakness over Iran – and wants more aggressive steps taken to prevent Tehran's development of nuclear weapons technology – and Egypt, where the US has severed military ties with the new government in protest at crackdowns on demonstrators.
Speaking to reporters at the State Department daily briefing, US spokeswoman Marie Harf admitted all three issues were causing tension but also insisted "the fundamental relationship with the Saudis is a strong one".
"We we working together on some challenging issue,s and we share the same goals, whether it's ending the civil war on Syria, getting back to a democratic government in Egypt, preventing Iran from acquiring nuclear weapons," said Harf.
"The question of how you get there all on these issues is what we're working through right now – with the Saudis and other international partners."
Harf said that a two-hour lunch between Kerry and the Saudi foreign minister remained "productive and enjoyable".
"They have a warm friendship, and even during moments of disagreement have always found ways to have an honest and open discussion," added Harf.
"Obviously we talked about some of the challenging issues that we want to confront together. We share the same goals – whether it's Syria, Egypt or Iran."
These are the latest signs that a US policy of rapprochement with Iran is causing friction with existing allies in the region, following similar concerns expressed by Israel.
Washington is also struggling to maintain good relations with France, Brazil, and Germany over separate arguments about surveillance by the National Security Agency.
But the row with Saudi Arabia threatens to destabilise one of the strongest diplomatic ties in Washington, based historically on mutual oil and security interests. Last week, Riyadh snubbed a US-backed offer to take a seat on the United Nations security council.
White House spokesman Jay Carney said this was "of course its own decision" but added that a seat on the UNSC "affords member states the opportunity to engage directly on issues of great importance, including issues like Syria, Iran, Egypt and the Middle East peace process."
He said the US will continue "close bilateral co-operation with Saudi Arabia on the host of shared challenges we face, including those issues that the security council takes up directly".
"We also have core relationship in national security areas that is very stable and important to US interests as well as Saudi interests," added Carney.