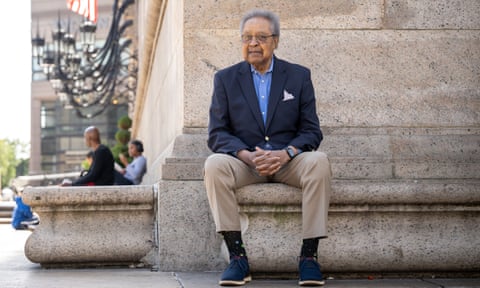 In February 1960, Clarence B Jones heard a knock at the door. What followed would change his life for ever. Then 29 years old, a talented and meticulous copyright lawyer who had recently moved to California for a job in the entertainment industry, Jones was beginning to enjoy the material rewards of his success: a modern home, a fast car, tailored suits and cocktail lunches. Earlier that week, however, he had received a phone call from a mentor in New York named Hubert Delany, asking if he would be willing to join him on the legal defence of a civil rights campaigner and preacher in Alabama who was embroiled in a spurious legal action over his tax affairs. Jones politely declined, but Delany warned him to expect a visit from the preacher within 48 hours. He was not one to give up easily.
Now Martin Luther King stood before him, there to make the request in person. King complimented Jones on his beautiful home, and asked questions about his childhood, and the death of his mother, whom he was still grieving. He told him he needed a skilled Black attorney to help coordinate his defence team of mostly white lawyers. By the end of their meeting, Jones had politely refused again, mildly offended that King had expected him to decamp from his career on the coast and travel to the deep south to work for nothing. As a courtesy, however, he agreed to go and watch King preach that Sunday in Los Angeles.
It was the sermon that changed everything. Jones, now 92, remembers it as if it were yesterday. The rhythm of his speech. The tapestry of his words. The stillness as King spoke. "I was mesmerised," he says. "I have never heard any human being who could speak like Dr King spoke. I sat there, like: 'Oh. My. God.' It was spellbinding."
The subject quickly turned to Jones himself, although not by name. King referenced a talented Black lawyer who had refused to join the movement. What might his late mother think of her son's decision? He read from Langston Hughes' poem Mother to Son, about a mother's life's journey through hardship. Tears fell from Jones's eyes.
"When do you want me in Montgomery?" he later asked King. Within days he was on a train down south. "It was the making of a disciple," he says. "There was more to my life than Martin Luther King, but that was a defining experience for me."
Jones would soon prove his worth, helping to secure an acquittal on the tax charges, and quickly becoming King's personal attorney, adviser, draft speech writer and fundraiser. Present at some of the pivotal moments in the civil rights movement's later history, and now one of the last living members of King's inner circle, he has only recently begun to share his story in full.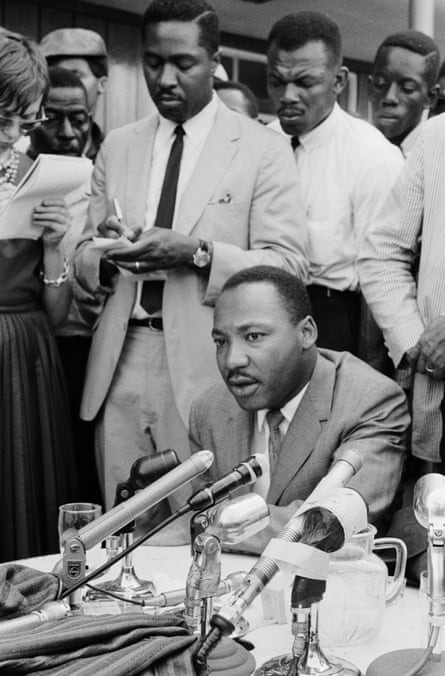 We meet over video call from his home in California for a conversation that lasts almost three hours. His tales are told in meticulous detail – precise dates, full names – and with deep emotion.
He weeps as he recalls his childhood. His parents were domestic servants for a wealthy white family in Philadelphia, and were forced to send their only child to a de facto orphanage, because their employers refused to provide adequate support and lodging. The school was run by Irish Catholic nuns and housed only Black and Native American boys. Although deprived of contact with his parents for most of the year, he has long understood their decision to send him away as an act of love and self-sacrifice that no doubt helped him become a gifted student. "What mother knowingly does that because she wants her son to have a better life?" he says through tears. "A mother that loves her child beyond rational description."
After graduating from high school at the top of his class, Jones struggled to find the money even to apply to college. He had worked double shifts at a Campbell's soup factory in New Jersey where his colleagues, all older Black men, allowed him to sleep inside a railway boxcar for most of the second shift in order to claim double pay, an act of quiet solidarity that he still thinks about today.
Eventually, a handful of his teachers clubbed together to pay his application fees, and he travelled to New York City to study at Columbia University, under a scholarship and financial assistance programme. Then, eventually, he went to Boston University School of Law. He had been out of college just a year when Dr King arrived at his door.
Although his youth in the north-east was characterised by systemic disadvantage, punctuated by instances of virulent racism, Jones had never experienced the brutality of the south, where legalised racial segregation had given birth to the civil rights movement. Even that first journey down to Alabama was a salient introduction to the dangerous world of which he was now part. Jones awoke in a railway waiting room in Nashville to the blow of a police officer's baton, not realising that he had fallen asleep in a whites-only section of the station.
He made clear to King and others in the Southern Christian Leadership Conference (SCLC) that, while he was proud to be part of the movement, he could not abide by the principles of non-violence. He points to the fact that he did two years in the army and his time playing football in college to explain why. "I admire you. I'm here to be the best lawyer I can be," Jones told King. "But if the white man puts his hands on me, he's going down."
Although he changed his stance years later, the directive at the SCLC was to keep the attorney away from frontline demonstrations. His role was behind the scenes – raising money for the cause and providing King with personal counsel.
Despite his backroom role, Jones would be thrust into many of the movement's acute crises and turning points over the years. In April 1963, when hundreds of demonstrators – many of them schoolchildren – were imprisoned during the Birmingham campaign as part of prolonged non-violent resistance to racial segregation in Alabama, Jones was the only lawyer to visit King during his week-long stint in solitary confinement.
When he was eventually given access to King, he found him seething at an open letter written by eight white Alabama clergymen, denouncing the tactics of the campaign. King had already begun writing a response on the margins of a newspaper and urged his lawyer to smuggle it out of jail and return with more paper.
Over the next few days, Jones would enter the jail twice a day with empty white pages hidden under his shirt and leave with King's writings from the previous trip. He recalls it now with nonchalance, despite the obvious risks he was taking at the time. "They [the jail guards] patted me down, but I didn't have to go through any machines," he says modestly. "I wasn't worried because they knew who I was. I always wore the same suit."
The writing would be pieced together and published as King's Letter from Birmingham jail, a seminal defence of civil disobedience, which remains of crucial relevance today and is read annually on the floor of the US senate. Jones had read none of it until it was published, unaware of his role in the production of such a definitive text.
Writing the letter "was probably what enabled him to almost ignore he was in solitary confinement", Jones says. "He was so concentrated on responding, he meticulously wanted to answer [the open letter]. He had no books, nothing to refer to, but in reading the actual letter you would think he had a library."
As time progressed, Jones would help draft many of King's speeches. Not, he insists, because the minister was disinclined to write, but because of his schedule. King's speaking engagements had also become a significant part of the SCLC's fundraising model, meaning more speeches and less time.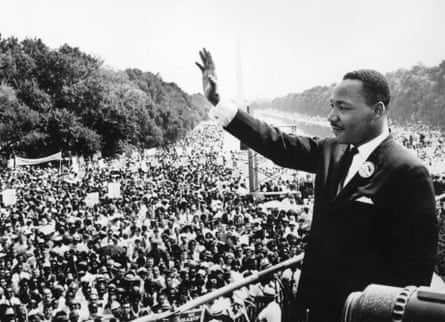 Most famously, he authored the opening of King's oration at the March on Washington just over 60 years ago in August 1963, although it would be remembered by its most famous ad libs of "I have a dream".
After handing in the draft, on lined yellow paper, Jones had expected his words to be heavily edited, but as he took his seat that day in Washington, King delivered it verbatim, starting with a protracted metaphor that argued that America's Black citizens had arrived in the capitol to "cash a cheque" of liberty endowed on them after emancipation. "We refuse to believe that the bank of justice is bankrupt," King said, in words Jones had drafted. "We refuse to believe that there are insufficient funds in the great vaults of opportunity of this nation."
The night before the speech, Jones recalls, King had been surrounded by advisers and other movement leaders, but Jones was trusted with drafting it, and had also been the one to insist that King speak last and be allotted more than the five minutes given to other speakers. "I knew from working with him, as erudite and smart as he was, that often it was just difficult for him to start a speech," he says. "And I just had a sense of how to start something for him."
Then the minister went off script and began "I have a dream", a refrain he had used in other addresses but was not scripted that day. It happened after prompting from the gospel singer Mahalia Jackson, who had called from audience: "Tell them about the dream, Martin." Jones stood behind him and noticed King's right foot rub against his left leg, moving the draft to the side of the lectern.
"Like a musician, like Charlie Parker showing he's about ready to let go – that's when I knew that something special was coming," he recalls. "It was as if some spiritual unseen force took over his body. His body was there, but something had taken possession of it. I had seen him speak so many times before. But I never heard him speak like that."
The lines of the speech were not the only unrecognised contribution Jones made that day. Still a shrewd lawyer, he had copyrighted the speech shortly before it was given. Its rights, now worth millions, are in the possession of the King family. "Not one person from the estate has written me a letter or said thank you," he says.
King had always warned his attorney of the perils associated with the work. The pair would have frank conversations about their own mortality. "Clarence, you're just a few years younger than me, but none of us are going to see the age of 50," he remembers King once telling him – deadly serious but almost lightheartedly. "Hang around with me, you'll have a short life. Because they will kill me and they may or may not kill you at the same time."
After the assassination of president John F Kennedy later in 1963, he saw King's fears grow. He became convinced, Jones says, there was little anyone in authority could or would do to protect his life.
He remembers the short phone call he received on 4 April 1968, from Harry Belafonte, the performer, activist and King confidante, delivering the news of King's murder. "Martin's been shot," Belafonte said before hanging up the phone. Jones, who had by then moved to New York, was packing his suitcase to join King that evening in Memphis. Earlier in the day he had declined his call – a decision he continues to regret. Life in the movement had become more of a juggling act. Although still a member of King's inner circle, recently helping to draft King's noted anti-war speech Beyond Vietnam, he had also become the first Black investment banking partner on Wall Street. "Sometimes, to this day I don't stop crying," he says. "What the fuck was I doing that was so important? It's something I've had to live with and it's very painful."
After King's assassination, Jones gradually dropped out of the movement and eventually abandoned the SCLC. "I couldn't take it any more," he recalls. "The SCLC without Martin was just too painful for me to bear." He battled alcoholism, which partly led to the breakdown of his first marriage. Jones had met Anne Norton, daughter of the famed publisher William Norton, on the day he left the army. She had moved from coast to coast for him and their four children and later died prematurely, in 1977. He eventually remarried, to Charlotte Schiff, mother of the Emmy award-winning actor Richard Schiff.
Just as meeting King changed his life, so too did King's death. He briefly considered a violent reprisal. "I went crazy," he says. "Martin finally got me committed to non-violence and now they kill him."
Jones long believed he had been under surveillance by the FBI, which under the direction of J Edgar Hoover targeted King and his inner circle over many years. But it took decades for him to understand the full extent of it.
In 1982, after submitting a Freedom of Information Act request, he received several large boxes of material containing wiretap transcripts, telephoto lens photography and internal reports. The scale was horrifying. "When I saw they had spent all this time, you would have thought I was the greatest killer or gangster in the world," he says. "Like an atomic spy or something. It was 24/7."
By this point Jones had been a newspaper editor and co-owner of the Amsterdam News, a weekly newspaper serving the Black community of New York. (He had taken the novel decision of publishing letters and articles by people held in prison, which led him to being called to help negotiations during the notorious 1971 Attica prison uprising in New York, during which 29 inmates and 10 prison officers died after protests over conditions.)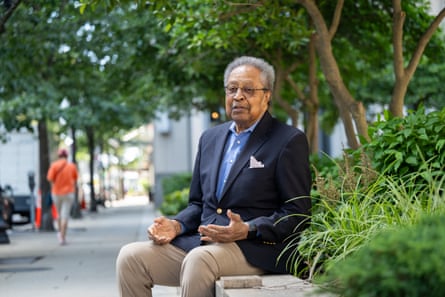 When, eventually, he turned to writing his new memoir, Last of the Lions, he used the FBI records to refresh his memory of events in his life. The irony has not escaped him. "It was an unbelievable, unintended gift for me," he says, adding that he remains furious that no one has ever been held accountable for the overreach.
Earlier this year, when news of Belafonte's death was announced, Jones found himself weeping again. The two had stayed in touch but had not spoken in a few years. It was another reminder of the diminishing number of those still alive who had worked so closely together under King during the civil rights era. (Jones lists only himself and the former US ambassador to the UN Andrew Young.)
On the day we spoke, he had received a phone call from the civil rights activist Rev Al Sharpton, inviting him to the 60th anniversary of the March on Washington. "I want you to know we have not forgotten," Sharpton told him.
Does he feel as though his role in history has been overlooked? "I don't, actually. I've come to terms with it," he says. "The March on Washington doesn't owe me anything. I was there in a capacity I was more than willing to serve. I was there at the service of my beloved colleague Martin Luther King."
Last of the Lions: An African American Journey in Memoir is published by Redhawk Publications