Chemical manufacturer Chemours accused of violating human rights by releasing 'forever chemicals' into Cape Fear River basin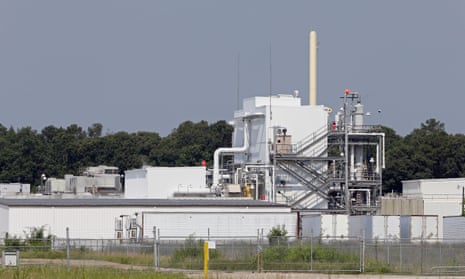 A citizens group in North Carolina has formally requested the United Nations to investigate multiple alleged human rights violations stemming from chemical manufacturer Chemours' toxic PFAS pollution in the region.
About a half million residents live in the Cape Fear River basin between Fayetteville and Wilmington, where Chemours has produced PFAS and polluted the region for over 40 years. The residents face "an environmental human rights crisis … involving pervasive human exposure to toxic chemicals", according to a communication filed with the UN by Clean Cape Fear and the University of California at Berkeley Environmental Law Clinic.
PFAS, or per- and polyfluoroalkyl substances, are a class of about 14,000 chemicals often used to make products resistant to water, stains and heat. They are called "forever chemicals" because they are virtually indestructible, and they are linked to cancer, liver problems, thyroid issues, birth defects, kidney disease, decreased immunity and other serious health problems.
A UN human rights commission investigation there would be the first to look into an environmental crisis in the US. Residents say they have been denied the right to clean water, bodily integrity, information, an effective remedy, and a clean, healthy and sustainable environment.
University researchers first discovered the pollution in 2017, and North Carolinians are "in disbelief that we are still living with this", said Clean Cape Fear co-founder Emily Donovan, who resides near Wilmington.
"We're nearly six years into this and my kids still go to a school that has water with high levels of PFAS," she added. "Everyone is aware of the problem … and is outraged, and we're all asking, 'Why is this still going on?'"
Chemours is among the world's largest PFAS producers, and last year the Guardian detailed how pollution from its Fayetteville Works plant has contaminated the air, soil, and water throughout hundreds of square miles in the Cape Fear River basin.
For decades, many residents unknowingly drank water contaminated with PFAS at levels thousands of times above what the EPA now considers safe for some compounds. The chemicals have also been found in food grown in the region. At popular tourist beaches, children have played in toxic PFAS foam spread across the sand, and the chemicals are thought to be killing pets and sickening alligators, birds and fish in the basin.
Residents suspect the pollution is behind anecdotally high levels of cancer and other diseases linked to exposure to the chemicals. Though a brief state health department analysis found elevated levels of one kind of cancer, it and the EPA have refused to carry out the kind of epidemiological studies needed to determine the pollution's full health effects, and which are required to hold Chemours legally responsible for health problems.
"The pervasive toxification of human bodies and the ecosystem of the lower Cape Fear River watershed with PFAS that persist essentially forever lends particular urgency to controlling these toxics at their source," the complaint states.
Chemours did not immediately respond to a request for comment.
The communication comes as Chemours is seeking a state permit to expand Fayetteville Works' production, and just after a federal judge threw out a lawsuit asking the court to force the EPA to take stronger action in the region.
In a statement, Chemours said it is "unfortunate to see misinformation campaigns like this continue to be aggressively advanced by groups unwilling to acknowledge the proven progress made or the truth that not all PFAS originates from our site".
The EPA, state and Chemours have taken some steps to rein in the plant's discharges, but contamination levels still remain well above EPA limits for some PFAS compounds.
"The EPA and [North Carolina Department of Environmental Quality] are also, through regulatory timidity and enforcement half-measures, responsible for acquiescing in past and ongoing human rights violations," the complaint states.
If the UN human rights commission chooses to investigate, a special rapporteur would fact-check the allegations in the communication, then issue "pointed" allegation letters to regulators, Chemours and other culpable parties detailing problems and posing questions, said Claudia Polsky, director of UC Berkley Law Clinic.
Businesses and governments would have a chance to respond, and usually do, Polsky said. International law is not legally binding, but the process would "put recipients on the defensive" and provide a platform on which the region's compelling human rights violation narrative is told "to the world at large", Polsky said. That would put tremendous pressure on the government to act, she added.
"It's not just words in the wind," Polsky said, adding that it can also "provide cover and give backbone to agencies to do things they may want to do, but feel browbeaten by industry."
The communication asks the special rapporteur to pressure regulators to stop the Fayetteville Works expansion, ensure clean water in the region, conduct an epidemiological study, hold Chemours financially responsible for cleanup and ban the entire PFAS for non-essential uses, among other measures.
The UN in 2021 investigated alleged human rights violations in Veneto, Italy, where the environment was also thoroughly contaminated by PFAS. That "inspired" those in the Cape Fear basin, Donovan said.
"There's a lack of accountability so we'll ask anyone who is willing to help, and we thought 'Maybe that's the kind of leverage that we need,'" she added.