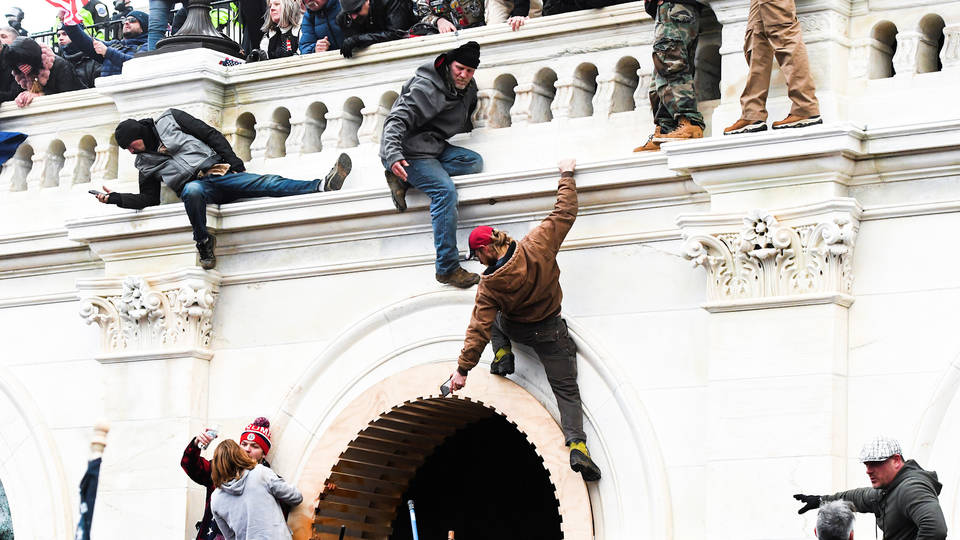 More Headlines from
January 07, 2021
Capitol Police Fail to Stop Insurrection as Video Shows Officers Stepping Aside, Posing for Selfies
Jan 07, 2021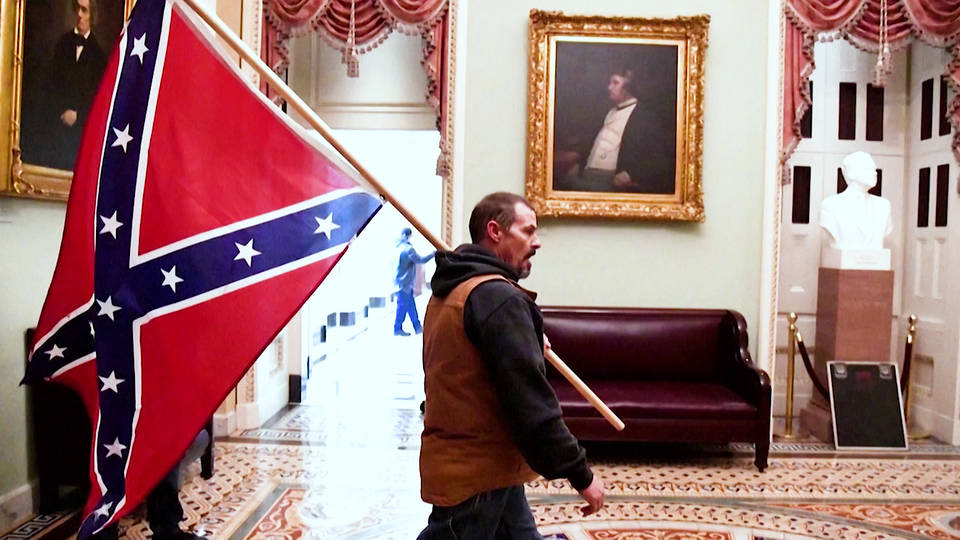 Despite the extraordinary scenes of violence, police arrested just 26 people on the Capitol grounds Wednesday. Congressmember Tim Ryan, the Ohio Democrat charged with funding the Capitol Police, told Politico, "I think it's pretty clear that there's going to be a number of people who are going to be without employment very, very soon."
One video appears to show Capitol Police opening a metal barricade outside the Capitol building. As the mob surges forward, the police walk slowly backward, making no obvious attempt to stop them. Another video shows a Capitol Police officer posing for a selfie with an insurrectionist inside the Capitol building.
Meanwhile, CNN reports President Trump resisted demands he send in Washington, D.C.'s National Guard to stop the insurrection. Instead, it was Vice President Mike Pence who coordinated with the Pentagon to send in the guard troops — after hours of delay.
Joe Biden's Presidential Win Certified Over Objections of 127 Republican Lawmakers
Jan 07, 2021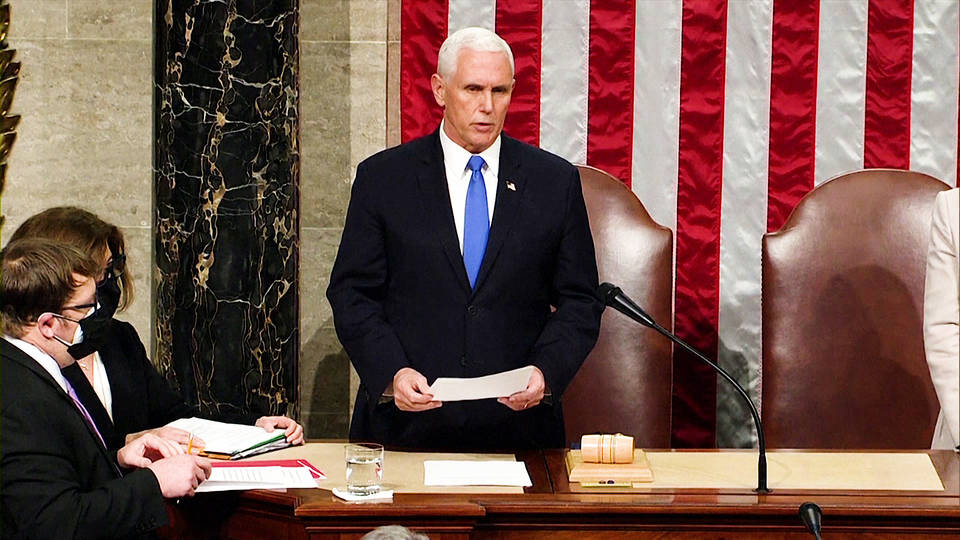 After Congress reconvened Wednesday evening following the violence, several Republican lawmakers called for ending the objections to the certification of the Electoral College vote. This is Utah Republican Senator Mitt Romney.
bq. Sen. Mitt Romney: "What happened here today was an insurrection, incited by the president of the United States. Those who choose to continue to support his dangerous gambit by objecting to the results of a legitimate democratic election will forever be seen as being complicit in an unprecedented attack against our democracy."
At 3:40 a.m. this morning, Congress formally declared President-elect Joe Biden the winner of the Electoral College. The declaration capped hours of debate that saw six Republican senators and 121 Republican congressmembers object to certified results in the swing states of Arizona and Pennsylvania. Moments after Biden's win was made formal, the White House released a statement attributed to President Trump. It read in part, "Even though I totally disagree with the outcome of the election, and the facts bear me out, nevertheless there will be an orderly transition on January 20th."
House Lawmakers Seek Immediate Removal of Trump from Office
Jan 07, 2021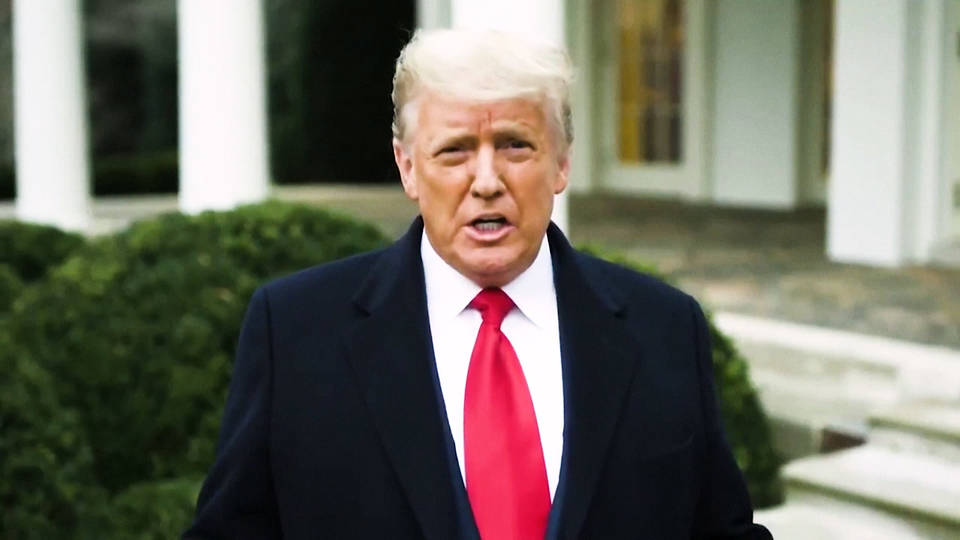 Multiple news outlets report members of President Trump's Cabinet have discussed invoking the 25th Amendment to remove President Trump from power. Such a move would require the support of a majority of Cabinet members, as well as Vice President Mike Pence. Democrats on the House Judiciary Committee wrote to Pence Wednesday demanding he take such action. Joining the call was the president of the National Association of Manufacturers, representing 14,000 corporations.
Minnesota Democratic Congressmember Ilhan Omar said she is drafting articles of impeachment. Her bid has already drawn the support of more than two dozen lawmakers.
Meanwhile, newly sworn-in Democratic Congressmember Cori Bush of Missouri tweeted, "My first resolution in Congress will be to call for the expulsion of the Republican members of Congress who incited this domestic terror attack on the Capitol."
Jan 07, 2021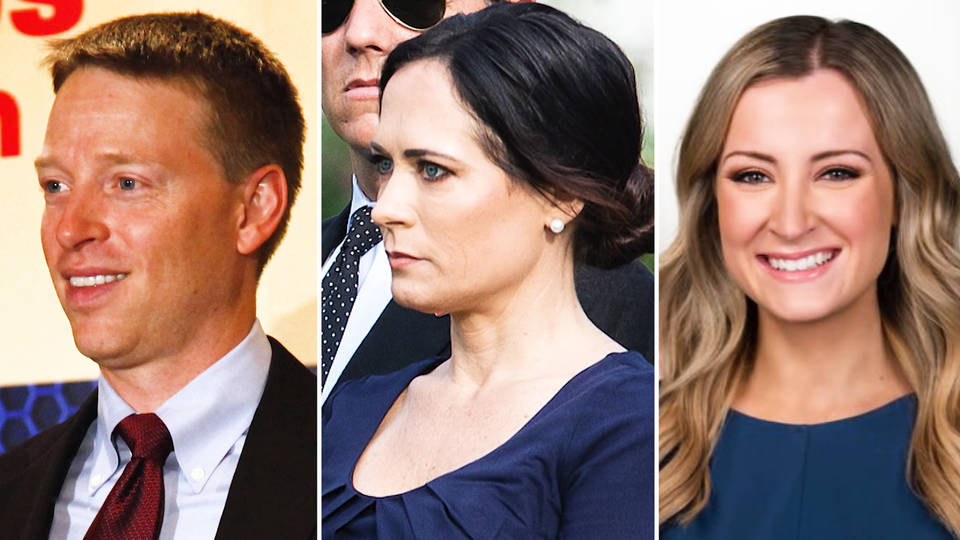 First lady Melania Trump's chief of staff and former White House press secretary, Stephanie Grisham, resigned just hours after Trump supporters stormed the Capitol. Deputy national security adviser Matt Pottinger also quit, as did Deputy White House Press Secretary Sarah Matthews, who said, "I was deeply disturbed by what I saw today." Other, more senior Trump administration officials are reportedly considering resigning, including national security adviser Robert O'Brien and Transportation Secretary Elaine Chao.
Jan 07, 2021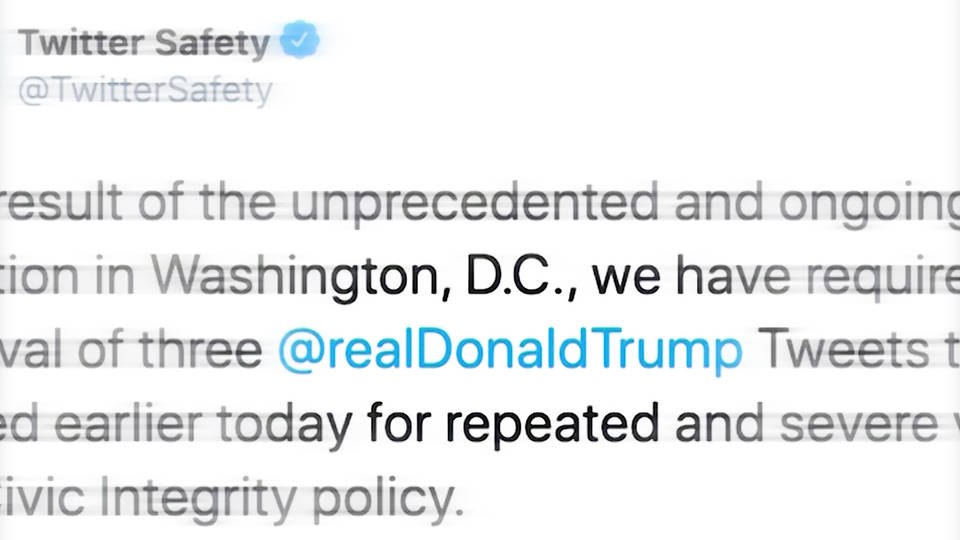 Twitter locked President Trump's account for 12 hours Wednesday and deleted three of his tweets, after he incited violence at the Capitol. Twitter cited Trump's "repeated and severe violations" of its policies. Facebook followed suit later Wednesday, blocking Trump from posting for 24 hours on its main platform and on Instagram. BuzzFeed News reports that earlier on Wednesday, Facebook managers silenced comments on an internal message board where employees discussed removing Trump from the social media site.
Jan 07, 2021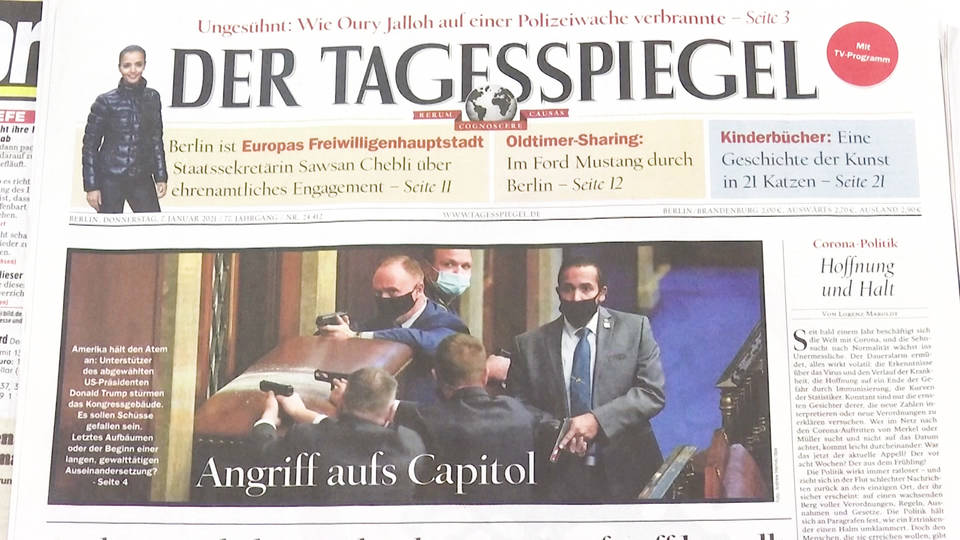 World leaders reacted in horror over the storming of the U.S. Capitol. U.N. Secretary-General António Guterres called on U.S. political leaders to demand their followers refrain from violence. Leaders of the U.K., New Zealand, Australia, Canada, India, Japan, France, Germany, NATO and the European Council called for a peaceful transfer of power to Joe Biden. In a statement, Venezuela's government condemned political polarization and the spiral of violence, adding, "With this unfortunate episode, the United States is experiencing what it has generated in other countries with its policies of aggression."
Jon Ossoff Vows to Fight to End the Pandemic as Democrats Sweep Georgia Elections
Jan 07, 2021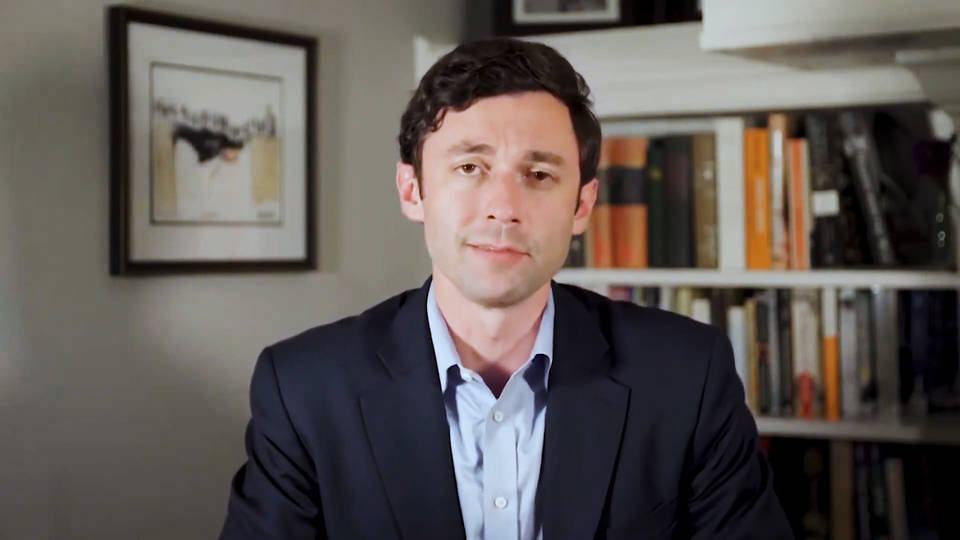 The Democratic Party is poised to take control of the U.S. Senate, after Georgia Democrat Jon Ossoff was projected the winner of Tuesday's runoff election against Republican incumbent Senator David Perdue. At 33 years old, Jon Ossoff is the youngest person elected to the Senate since Joe Biden won in 1972. Senator-elect Ossoff live-streamed a victory speech Wednesday, promising he'd fight to end the pandemic.
Sen.-elect Jon Ossoff: "I will work in the U.S. Senate to support a robust public health response so that we can defeat this virus, putting Georgia's own Centers for Disease Control and Prevention in the lead, trusting medical expertise, doctors and scientists to bring the tools to bear, the technology to bear, the ingenuity to bear and the resources to bear necessary to stop the spread of this virus, to defeat it and to get our daily lives back; and to rush direct economic relief to people who need help right now."
Ossoff's victory came after another Georgia Democrat, Reverend Raphael Warnock, was projected the winner over Republican Kelly Loeffler. Before his Twitter account was temporarily suspended Wednesday, President Trump tweeted baseless conspiracy theories that the Georgia Senate election was rigged.
U.S. Hospitalizations Hit New High as Nearly 4,000 Die of
COVID

-19 on Wednesday

Jan 07, 2021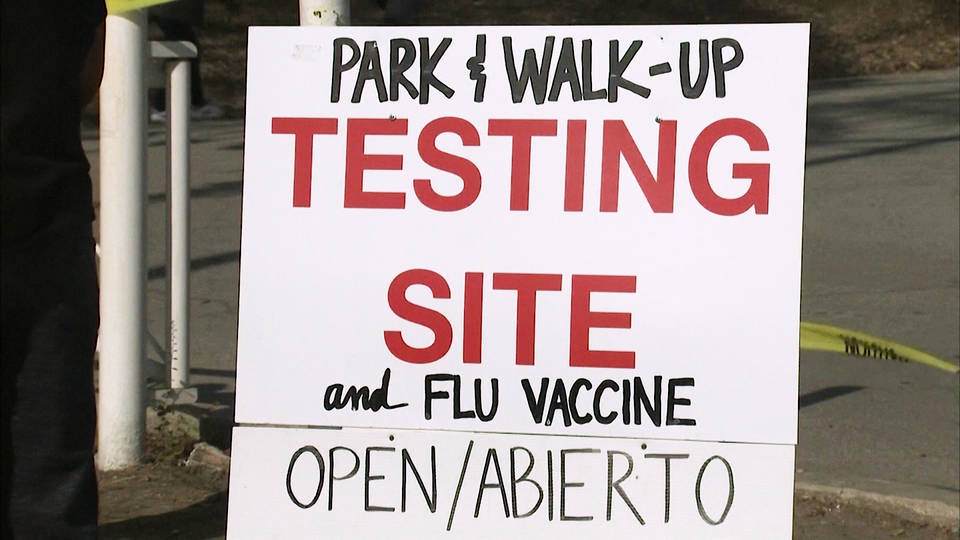 The United States set another daily coronavirus world record Wednesday with nearly 4,000 deaths from COVID-19. U.S. hospitalizations hit a new record high, topping 132,000. More than a quarter-million new infections were confirmed Wednesday alone. California's total cases have topped 2.5 million, with hospitals reporting critical shortages of oxygen, ICU beds, and medical workers to tend to 23,000 patients.
In New York, three more incarcerated people died of COVID-19 Wednesday, adding to a record surge in prisoner deaths. In other news from New York, the largest health system in the state, Northwell, announced Tuesday it would rescind some 2,500 medical debt lawsuits it filed during the pandemic and would stop suing patients, after The New York Times reported on the lawsuits. The Times was reporting on an exposé done by the Community Service Society.
Joe Biden Nominates Merrick Garland for Attorney General
Jan 07, 2021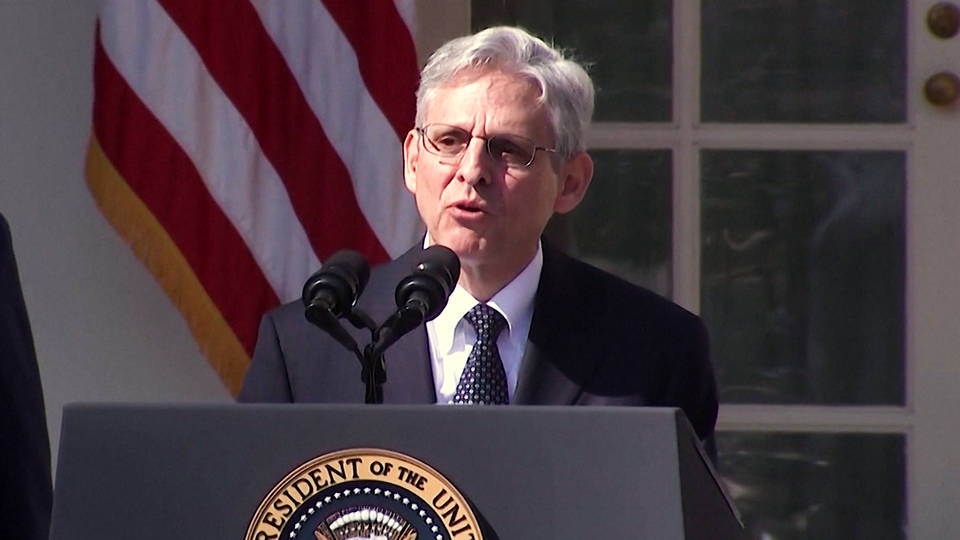 Joe Biden has nominated Judge Merrick Garland for attorney general. Garland is a centrist judge who has already received the support of prominent Republicans. He was President Obama's pick to serve on the Supreme Court after the death of Antonin Scalia in 2016, but his nomination stalled after Republican senators, led by Mitch McConnell, refused to put it up for a vote.
Garland has served on the D.C. Circuit Court of Appeals for over two decades and previously worked at the Justice Department, where he prosecuted the Oklahoma City bombing case. Many progressives expressed disappointment at the pick, which was seen as a safe choice for bipartisan confirmation, on the same day Democrats gained control of the Senate and following the historic uprising for Black lives over the summer. As a judge, Merrick Garland's record shows him often siding with law enforcement.
Biden has also tapped Lisa Monaco, Obama's adviser for homeland security and counterterrorism, as deputy attorney general; Vanita Gupta as associate attorney general; and Kristen Clarke, president and executive director of the Lawyers' Committee for Civil Rights Under Law, as assistant attorney general for civil rights. Click here to see our last interview with Kristen Clarke, just this week.
Louisville Police Formally Terminate Two Officers Involved in Breonna Taylor's Killing
Jan 07, 2021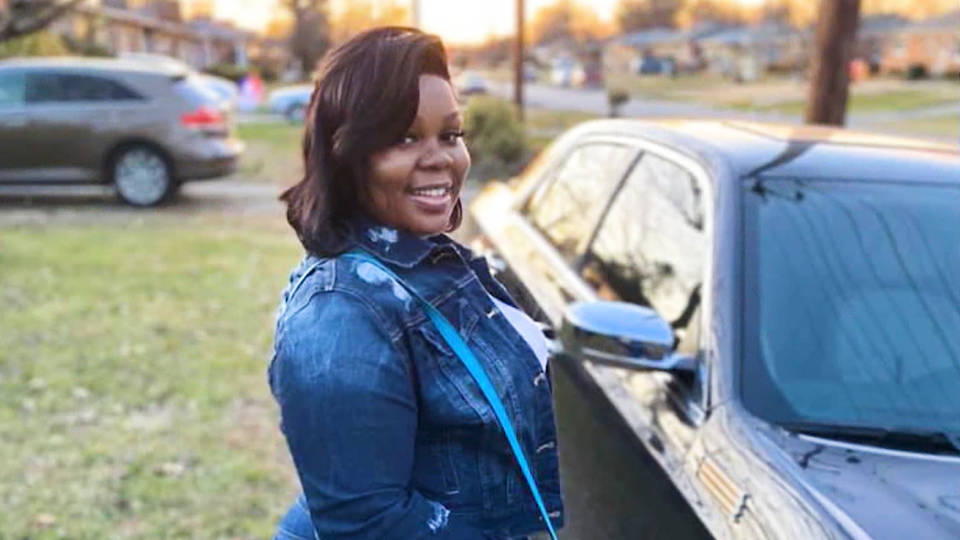 In Kentucky, the Louisville Police Department has officially fired two detectives involved in the killing of Breonna Taylor, after the two men received pre-termination letters last week. Taylor, a 26-year-old Black emergency room technician, was shot to death in her own home by police on March 13, sparking mass protests. The officers are Detective Myles Cosgrove, who fired the shot that killed Taylor, and Detective Joshua Jaynes, who prepared the search warrant that led to the fatal raid. No one has been criminally charged over Breonna Taylor's death.
Governor Pritzker Condemns Illinois
GOP

Rep. Mary Miller for Praising Hitler

Jan 07, 2021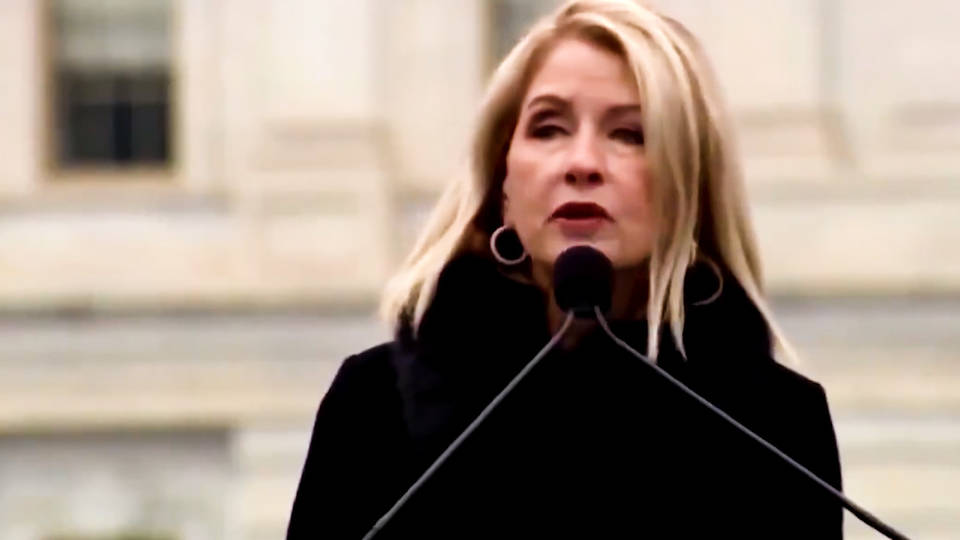 Newly elected Illinois Congressmember Mary Miller has received widespread condemnation for praising Hitler. Miller made the comment at a "Moms for America" rally in D.C. Tuesday.
Rep. Mary Miller: "Hitler was right on one thing. He said, 'Whoever has the youth has the future.'"
Illinois Governor J.B. Pritzker, who is Jewish, called Miller's remarks "unfathomable and disgusting" during a news conference Wednesday.
Gov. J.B. Pritzker: "Hitler got nothing right. This reprehensible rhetoric has no place in our politics."
D.C. Police Chief Warns
GOP

Rep. Lauren Boebert Against Carrying Her Gun to Congress

Jan 07, 2021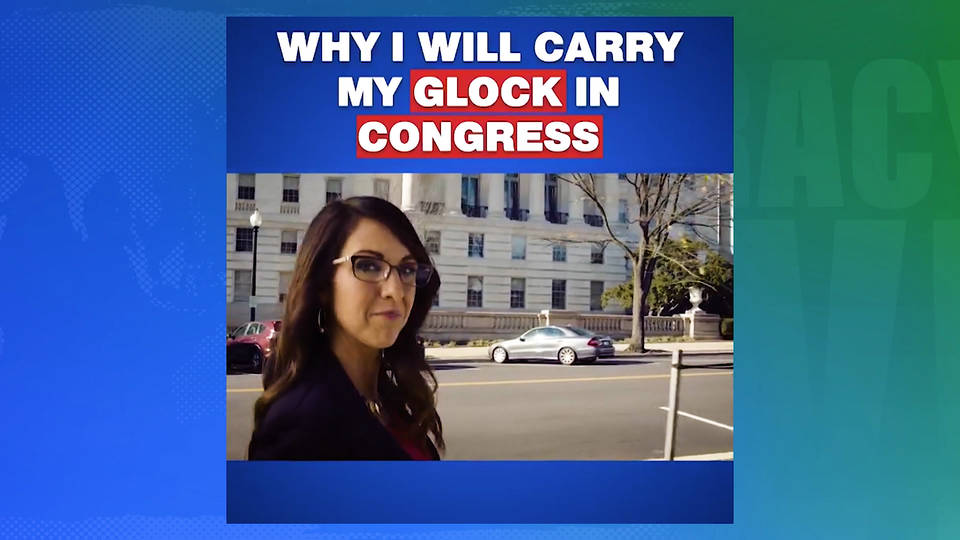 Washington, D.C.'s police chief has warned Republican freshman Congressmember Lauren Boebert against violating the district's strict gun control laws, after she posted a video to social media vowing she would bring her Glock pistol to Congress.
Rep. Lauren Boebert: "Even though I now work in one of the most liberal cities in America, I refuse to give up my rights, especially my Second Amendment rights."
Under federal law, congressmembers are allowed to have guns on Capitol grounds if they are unloaded and securely wrapped. They are barred from carrying a gun on the House floor. Congressmember Boebert owns a restaurant known as Shooters Grill in the town of Rifle, Colorado, where servers openly carry firearms. She has expressed support for the racist, pro-Trump QAnon conspiracy theory.
LeBron James May Buy WNBA's Atlanta Dream from Outgoing Sen. Kelly Loeffler
Jan 07, 2021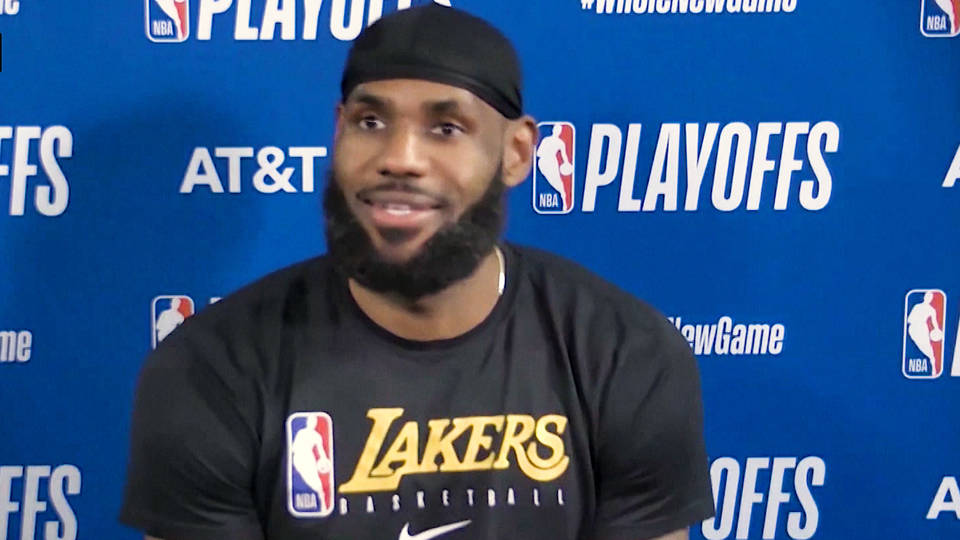 Image Credit: NBA Entertainment
Basketball superstar LeBron James suggested he'll try to buy the WNBA team Atlanta Dream from freshly defeated Kelly Loeffler Wednesday. James tweeted, "Think I'm gone put together an ownership group for The Dream. Whose in?" He added a photo of the team's players wearing "VOTE WARNOCK" T-shirts. Atlanta Dream's players endorsed Senator-elect Raphael Warnock in his race against their team's co-owner, Kelly Loeffler, who has spoken out against the Black Lives Matter movement. Journalist Jemele Hill credited the WNBA players for helping propel Warnock to victory.