Maryanne Trump Barry recorded by niece Mary Trump
White House decries 'politics as usual' and 'axe to grind'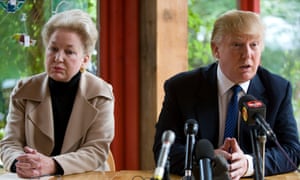 Donald Trump's older sister, a former federal judge, can be heard sharply criticizing her brother in a series of recordings released on Saturday, at one point saying of the president: "He has no principles."
Maryanne Trump Barry was secretly recorded by her niece, Mary Trump, who in July released a book denouncing the president, Too Much and Never Enough: How My Family Created the World's Most Dangerous Man.
Mary Trump said on Saturday she made the recordings, which are legal under New York law, in 2018 and 2019. In the acknowledgements for her book, she thanks her aunt for "all of the enlightening information".
In one conversation, Barry, now 83, says she had heard a 2018 interview with her brother on Fox News in which he suggested he would put her on the southern border to oversee immigration cases, while his government was separating children from their parents.
"His base, I mean my God, if you were a religious person, you want to help people," Barry says. "Not do this."
At another point, she decries "the phoniness of it all … the phoniness and this cruelty. Donald is cruel."
Barry also guesses that her brother has never read her opinions on immigration cases because he doesn't read at all.
"What has he read?" Mary Trump asks. Barry responds: "No. He doesn't read."
She also says: "His goddamned tweet and lying, oh my God."
She adds: "I'm talking too freely, but you know. The change of stories. The lack of preparation. The lying. Holy shit."
After the recordings were reported by the Washington Post, Donald Trump said in a statement: "Every day it's something else, who cares." On Sunday, the White House continued to push back, chief of staff Mark Meadows decrying "politics as usual".
"The president that I have the privilege of serving is not the one that's being described on a 15-hour … secret tape," Meadows said. "I mean, what family member tapes another family member for 15 hours secretly?
"This is politics as usual by a niece that was written out of a will that … just has an axe to grind because she wants Joe Biden to be president."
Mary Trump and her brother settled with their uncles and aunts in 2001, after a dispute over the will of Fred Trump Sr, the family patriarch. That settlement was the basis of a family attempt to stop publication of Too Much and Never Enough.
"Mary realized members of her family had lied in prior depositions," said Chris Bastardi, a spokesman, adding: "Anticipating litigation, she felt it prudent to tape conversations in order to protect herself."
Jason Miller, a senior adviser to the Trump campaign, dismissed Barry's quotes as a "sibling rivalry". After NBC Meet the Press host Chuck Todd pointed out that the president's sister may have more credibility because she is a retired federal judge, Miller said: "I can tell you my conversations with the president over the years, I've only heard him say positive things about his sister, as someone who's a very accomplished judge."
Meadows took a shot at Barry for not attending a White House funeral on Friday for Robert Trump, the president's younger brother who died last week at the age of 71.
"I can tell you that I've never met the judge," Meadows said. "I was at the funeral the other day. I was hoping to meet her there. She didn't show up for her brother's funeral."
In her book, a searing account which also describes how the author helped the New York Times expose the family's tax affairs, Mary Trump writes about how her father, Fred Trump Jr, died of problems relating to alcoholism in 1981, at the age of 42.
"As my father lay dying alone," she writes, "Donald went to the movies."
In his statement on Saturday, Donald Trump said: "I miss my brother [Robert], and I'll continue to work hard for the American people. Not everyone agrees, but the results are obvious. Our country will soon be stronger than ever before."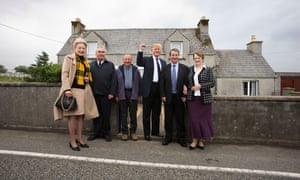 The president has frequently spoken highly of his sister and the recordings are the first time a family member, other than Mary Trump, has been critical of him.
Mary Trump's book includes the assertion – denied by Trump – that he paid someone to take exams for him as he sought to transfer into the University of Pennsylvania.
In one recording, the federal judge says a Joe Shapiro took the SAT for Trump. The president was friends with a person at Penn named Joe Shapiro, who is deceased. Shapiro's widow and sister have said he never took a test for anybody.
Bastardi said Mary Trump "never expected to learn much of what she heard, including the president's sister, federal judge Maryanne Trump Barry, state that Donald Trump had paid someone to take an SAT exam for him".
On ABC, Meadows was asked if the president had evidence to prove the test story was not true.
"Well, he does," Meadows said, though he did not provide any such evidence before pivoting to Barry's claim that her brother does not read.
"There's a cardboard box that is brought on Marine One," Meadows said, referring to the presidential helicopter. "What's in there are clippings and clippings, each and everyday, he reads probably more than anybody I know, which causes me to have to read more because every morning he's giving me a to-do list. Every evening he's giving me a to-do list."
Democracy is in peril …
… ahead of this year's US election. Donald Trump is busy running the largest misinformation campaign in history as he questions the legitimacy of voting by mail, a method that will be crucial to Americans casting their vote in a pandemic. Meanwhile, the president has also appointed a new head of the US Postal Service who has stripped it of resources, undermining its ability to fulfill a crucial role in processing votes.
This is one of a number of attempts to suppress the votes of Americans – something that has been a stain on US democracy for decades. The Voting Rights Act was passed 55 years ago to undo a web of restrictions designed to block Black Americans from the ballot box. Now, seven years after that law was gutted by the supreme court, the president is actively threatening a free and fair election.
Through our Fight to vote project, the Guardian has pledged to put voter suppression at the center of our 2020 coverage. This election will impact every facet of American life. But it will not be a genuine exercise in democracy if American voters are stopped from participating in it.
At a time like this, an independent news organisation that fights for truth and holds power to account is not just optional. It is essential. Like many other news organisations, the Guardian has been significantly impacted by the pandemic. We rely to an ever greater extent on our readers, both for the moral force to continue doing journalism at a time like this and for the financial strength to facilitate that reporting.
You've read more than in the last nine months. We believe every one of us deserves equal access to fact-based news and analysis. We've decided to keep Guardian journalism free for all readers, regardless of where they live or what they can afford to pay. This is made possible thanks to the support we receive from readers across America in all 50 states.
As our business model comes under even greater pressure, we'd love your help so that we can carry on our essential work. If you can, support the Guardian from as little as $1 – and it only takes a minute. Thank you.