Documents reveal Pompeo-Giuliani links as Parnas reportedly willing to testify Devin Nunes met with ex-Ukrainian official
A cache of state department documents and a CNN report dealt twin blows to Republicans defending Donald Trump late on Friday, until then a relatively quiet day in the impeachment inquiry after a week of dramatic public hearings.
Documents released by the state department in response to a freedom of information lawsuit showed secretary of state Mike Pompeo talked with former New York mayor Rudy Giuliani, commonly described as Trump's personal lawyer, on 26 March and 29 March this year, months before the US ambassador to Ukraine was abruptly recalled.
Pompeo, widely reported to be considering leaving the Trump administration to run for Senate in Kansas, has been repeatedly linked to Giuliani's apparently extra-governmental work in Ukraine, work which sits at the heart of the impeachment inquiry.
CNN's Cuomo Prime Time, meanwhile, reported that a lawyer for Lev Parnas, one of two Soviet-born American associates of Giuliani indicted on campaign finance charges, said his client was willing to tell Congress about meetings between Devin Nunes, the top Republican on the House intelligence committee, and a former Ukrainian prosecutor general in Vienna in 2018, allegedly held to discuss digging up dirt on Joe Biden.
Trump's attempts to pressure Ukraine into investigating Biden and a conspiracy theory about Ukrainian interference in the 2016 US election – rather than Russian – sit at the heart of the impeachment inquiry.
In televised hearings, US officials have outlined what Democrats claim is Trump's extensive abuse of power, among such behaviour the move to recall the ambassador, Marie Yovanovitch. She testified last week.
Nunes has led Republicans' defence of the president, deriding the hearings as a circus and the charges against the president as a politically motivated sham.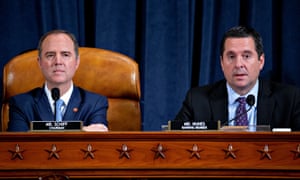 Yovanovitch told House investigators she felt kneecapped by a smear campaign Giuliani led against her. She was withdrawn from Ukraine in May.
Austin Evers, executive director of American Oversight, said the documents his group obtained reveal a clear paper trail from Giuliani to Trump to Pompeo, in order to enable the moves against Yovanovitch.
"We can see why Mike Pompeo has refused to release this information to Congress," he told the Associated Press. "It reveals a clear paper trail from Rudy Giuliani to the Oval Office to Secretary Pompeo to facilitate Giuliani's smear campaign against a US ambassador."
The documents released late on Friday included a report, apparently on Trump hotel stationery, that appears to summarise an interview on 23 January 2019 with Ukraine's former prosecutor general, Victor Shokin. The summary says Giuliani, Parnas and Igor Fruman were present.
Parnas and Fruman were arrested last month on a four-count indictment that includes charges of conspiracy, making false statements to the Federal Election Commission and falsification of records. Both pleaded not guilty.
Both had key roles in Giuliani's efforts to launch a Ukrainian corruption investigation against Biden, a leading contender for the Democratic presidential nomination, and his son Hunter. In the document about the 23 January meeting, Shokin claims he was removed from his position under pressure from Biden.
A second memo appears to be a summary of an interview with Yuri Lutsenko, also a former prosecutor general of Ukraine, conducted in the presence of Giuliani, Parnas and Fruman. Lutsenko is quoted raising questions about compensation that Hunter Biden received from the Ukrainian oil company Burisma.
There is no evidence that Hunter Biden or his father did anything wrong in Ukraine.
Parnas remains under House arrest in Florida. He has previously indicated, through his lawyers, a willingness to tell his side of the story and comply with the House impeachment inquiry.
The CNN report about Nunes quoted the attorney Joseph A Bondy as saying Parnas was told directly by Shokin that he met Nunes, intelligence committee chair until the Democrats retook the House in the 2018 midterms, in Vienna last December.
It followed a report by the Daily Beast on Thursday which said Parnas helped arrange meetings and calls for Nunes in Europe in late 2018. Citing congressional records, the Beast said Nunes traveled to Europe from 30 November to 3 December with three aides, at a cost of $63,000.
Bondy told CNN Parnas wanted to speak to the House intelligence committee, and tweeted a hint such negotiations had begun.
CNN is one of Trump's favourite targets for "fake news" invective. It said it asked Nunes for comment on Thursday, as he was leaving an impeachment hearing.
"To be perfectly clear, I don't acknowledge any questions from you in this lifetime or the next lifetime," Nunes said. "I don't acknowledge any question from you ever."
Later on Friday, the far-right website Breitbart News said it had "learned exclusively" that the California representative intended to sue the Beast and CNN.
"These demonstrably false and scandalous stories published by the Daily Beast and CNN are the perfect example of defamation and reckless disregard for the truth," Nunes said. "Some political operative offered these fake stories to at least five different media outlets before finding someone irresponsible enough to publish them."
CNN and the Beast, he said, would "find themselves in court soon after Thanksgiving".
2020 will be…
… a defining year. These are perilous times. And we're asking for your help as we prepare for 2020. Over the last three years, much of what the Guardian holds dear has been threatened – democracy, civility, truth. This US administration is establishing new norms of behaviour. Anger and cruelty disfigure public discourse and lying is commonplace. Truth is being chased away. But with your help we can continue to put it center stage.
Rampant disinformation, partisan news sources and social media's tsunami of fake news is no basis on which to inform the American public in 2020. The need for a robust, independent press has never been greater, and with your help we can continue to provide fact-based reporting that offers public scrutiny and oversight. You have read 9 articles in the last month, so we hope you can appreciate the Guardian's choice to keep our journalism open for all.
"Next year America faces an epic choice – and the result could define the country for a generation. It is at a tipping point, finely balanced between truth and lies, hope and hate, civility and nastiness. Many vital aspects of American public life are in play – the Supreme Court, abortion rights, climate policy, wealth inequality, Big Tech and much more. The stakes could hardly be higher. As that choice nears, the Guardian, as it has done for 200 years, and with your continued support, will continue to argue for the values we hold dear – facts, science, diversity, equality and fairness." – US editor, John Mulholland
On the occasion of its 100th birthday in 1921 the editor of the Guardian said, "Perhaps the chief virtue of a newspaper is its independence. It should have a soul of its own." That is more true than ever. Freed from the influence of an owner or shareholders the Guardian's robust independence is our unique driving force and guiding principle.
We also want to say a huge thank you to everyone who has supported the Guardian in 2019. You provide us with the motivation and financial support to keep doing what we do. We hope to surpass our goal by early January. Every contribution, big or small, will help us reach it. Make a year-end gift from as little as $1.