Fires broke out in 131 indigenous reserves from 15-20 August

Campaigners say indigenous territories easy targets for loggers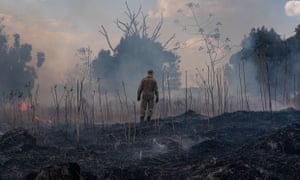 Fires have been reported in protected indigenous reserves of the Brazilian Amazon, raising fears that loggers and land grabbers have targeted these remote areas during the dramatic surge in blazes across the world's biggest rainforest.
Blazes have been seen on the Araribóia indigenous reserve in Maranhão state – a heavily deforested reserve on the Amazon's eastern fringes, which is home to about 80 people from an isolated group of Awá indigenous people, described by the NGO Survival International as the world's most endangered tribe.
Brazil's far-right president, Jair Bolsonaro, who has been widely criticised for failing to respond quickly to the crisis, issued a decree on Thursday banning fires in the Amazon for 60 days – a move environmentalists described as largely symbolic.
The fires are often used to clear pasture and deforested areas in the Amazon during dry winter months, but there have been 28,000 this month – more than any August since 2010.
Bolsonaro has been accused of helping stoke the crisis by encouraging invasions of protected reserves with his promises to develop the Amazon, and force his vision of progress on indigenous peoples.
Campaigners say indigenous territories make easy targets for loggers and farmers and settlers seeking land or valuable wood.
Antenor Vaz, a former employee at Brazil's indigenous agency Funai and consultant on isolated indigenous peoples, said research based on Nasa images showed that fires broke out in 131 indigenous reserves from 15-20 August. Of those, 15 were home to indigenous groups who are isolated or in stages of initial contact.
"Most of these people are constantly fleeing, they are constantly being threatened," he said. "These people depend on the forest and as fire kills the animals they feel completely desperate with the situation."
Tainaky Tenetehar, 34, a coordinator for the Guardians of the Forest – a volunteer indigenous force that patrols the reserve – said that the fires had been set by loggers. He said: "To make it harder, they are stopping the indigenous fire brigade from combating the fires."
He said the fires were less severe than those in 2015, which swept the reserve and were also blamed on illegal loggers.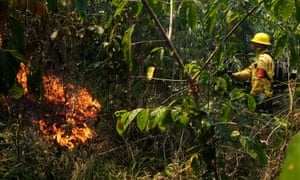 Images from Brazil's space research institute INPE showed multiple fires inside the reserves in recent days – although the most recent images show they were reducing.
The fires "are being controlled so as not to put the Awá that are in the forest in danger, they need the forest to live", Tenetehar said.
Tenehetar challenged criticisms Bolsonaro made of the size and quantity of indigenous reserves in on Tuesday during a crisis meeting to discuss the fires with Amazon state governors.
"There are farmers with lands bigger than ours," he said. "We want support from other countries that are sensitive to our case. It is very important for us, because if we depend on our own country we are all dead, destroyed."
On the other side of the Amazon, fires have broken out inside and around the Uru-Eu-Wau-Wau reserve in Rondônia state, which is home to three groups of indigenous people in voluntary isolation.
"That is [what] most worries us, because we don't know what will happen with these groups," said Ivaneide Bandeira, coordinator at Kanindé, an indigenous NGO in the state. "We have been denouncing invasions by land grabbers and deforestation since the beginning of the year."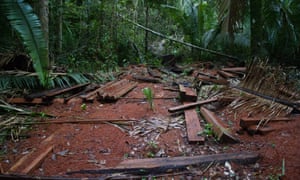 Fiona Watson, advocacy director at Survival International, said land grabbers are targeting indigenous reserves because they are often remote, well-conserved and unprotected.
"It's clear to me that a lot of these fires are set off deliberately," she said. "The difference now is that with Bolsonaro's message, the Amazon is up for grabs."
Giovani Tapuri, 38, a member of the Manoki tribe on the Amazon's south-western edge in Mato Grosso state, said fires began appearing in his reserve in June and July. In recent months, lots have been demarcated and cattle began appearing inside their land, he said.
Last Friday he and other members of the tribe found a huge blaze on their reserve and were threatened by a group of non-indigenous men. "They told us to leave," he said. "It was tense … we felt threatened."
As the crisis escalates…
… in our natural world, we refuse to turn away from the climate catastrophe and species extinction. For The Guardian, reporting on the environment is a priority. We give reporting on climate, nature and pollution the prominence it deserves, stories which often go unreported by others in the media. At this pivotal time for our species and our planet, we are determined to inform readers about threats, consequences and solutions based on scientific facts, not political prejudice or business interests.
More people are reading and supporting The Guardian's independent, investigative journalism than ever before. And unlike many news organisations, we have chosen an approach that allows us to keep our journalism accessible to all, regardless of where they live or what they can afford. But we need your ongoing support to keep working as we do.
The Guardian will engage with the most critical issues of our time – from the escalating climate catastrophe to widespread inequality to the influence of big tech on our lives. At a time when factual information is a necessity, we believe that each of us, around the world, deserves access to accurate reporting with integrity at its heart.
Our editorial independence means we set our own agenda and voice our own opinions. Guardian journalism is free from commercial and political bias and not influenced by billionaire owners or shareholders. This means we can give a voice to those less heard, explore where others turn away, and rigorously challenge those in power.
We need your support to keep delivering quality journalism, to maintain our openness and to protect our precious independence. Every reader contribution, big or small, is so valuable. Support The Guardian from as little as $1 – and it only takes a minute. Thank you.