A new urgency surrounds the Russia investigation, with Donald Trump Jr and longtime Trump ally Roger Stone in legal peril
Donald Trump only has himself to blame for Robert Mueller's return to public life. The former FBI director, now 74, was asked to come out of retirement after Trump fired James Comey,on 9 May 2017.
In March that year, on Capitol Hill, Comey revealed publicly that in July 2016 the FBI opened an investigation into Russian interference in the US election and possible Trump campaign collusion. During the election, Comey spoke openly about the FBI's investigation into Hillary Clinton's emails. The Trump-Russia inquiry was kept secret.
Eight days after Comey was fired, the deputy attorney general, Rod Rosenstein, appointed Mueller as special counsel. Eighteen months later, the inquiry has led to indictments against 32 individuals and three Russian entities on charges ranging from computer hacking to obstruction of justice.
Trump's former campaign chair Paul Manafort and former national security adviser Michael Flynn both pleaded guilty to criminal charges and pledged to cooperate. Donald Trump Jr and longtime Trump aide Roger Stone are in legal peril.
Trump Jr orchestrated the now infamous Trump Tower meeting with a group of Russians after being promised "dirt" on Hillary Clinton. Stone has been under scrutiny over whether he joined the Russian conspiracy.
Trump, who would himself be in legal trouble if he knew of any conspiracy or obstructed justice, has consistently called the Mueller investigation a hoax and turned "NO COLLUSION!" into a catchphrase.
'He has moved incredibly quickly'
The investigation, which cost more than $16.6m in its first 11 months, can be broken down into four distinct parts which have all led to indictments:
Manafort and his business connections to Russia following years of work in support of the former Ukrainian president Viktor Yanukovych.

Russian use of fake social media accounts to influence the 2016 election.

Russian hacking of the Democratic party and the Clinton aide John Podesta – and the subsequent leak of thousands of emails by WikiLeaks.

Trump campaign connections to Russia – including the Trump Tower meeting and the adviser George Papadopoulos's involvement with a professor who told him the Russians had "dirt" on Clinton including "thousands of emails".
Anne Milgram, a law professor at New York University and a former prosecutor and attorney general of New Jersey, said Mueller and his 17 lawyers had done "a terrific job".
"Months have gone by – people think it's a long time – it is not in criminal justice," she said. "He has moved incredibly quickly, got a lot of cooperation agreements, charges, done an extraordinary job of running down Russian hacking of the election."
Elizabeth de la Vega, a former federal prosecutor for the northern district of California, said: "Complex charges against nearly three dozen people [and] organizations in less than two years is unheard of. Federal investigations may go on for three or four years before charges are brought against a few defendants. Also despite nearly daily false attacks from the president and his allies, the entire team has just kept its head down and done their work."
One indictment charging three Russian companies and 13 Russians goes into amazing detail about the companies, which had budgets of more than $1.2m a month and hundreds of staff creating fake content aimed at stirring up American voters.
Another indictment charges 12 members of the Russian military with hacking the Democrats and the Clinton campaign. The individuals are alleged to have created the site DC Leaks and created the Guccifer 2.0 persona, supposed to be a lone Romanian hacker who shared data with WikiLeaks.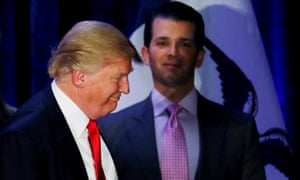 "It is really extraordinary, detailed evidence of the way the Russian government hacked the American election," Milgram said. "What is still outstanding is are any Americans charged in connection with that, will Roger Stone be charged, will Mueller write a report on the president, what about Donald Trump Jr?
"High-level questions remain – how close did this come to the campaign? Were they involved in the coordinated release of the hacked emails of Podesta? What about the president's efforts to fire Comey to allegedly obstruct justice?"
The grand jury
Little is known about the inner workings of Mueller's investigation, which has been operating out of an office in south-west Washington, not far from the National Mall.
A grand jury has been convened, meeting at the DC federal court on Pennsylvania Avenue, midway between the White House and Capitol Hill. People appear either voluntarily or under subpoena and are questioned without their lawyer. The jury can weigh evidence and say whether charges should be brought.
Rob Goldstone, a British PR man for the Russian Agalarov family, fixed up the Trump Tower meeting with a promise of Russian dirt on Clinton.
"If it's what you say, I love it," Trump Jr wrote, before bringing in his brother-in-law Jared Kushner and Manafort. He had been promised "very high-level and sensitive information" as part of Russian support for Trump.
Goldstone met Mueller's team voluntarily. He told the Guardian he was taken in an unmarked car for six or seven hours of interviews in February this year.
"It was a basic room," he said, "a long table. I sat on one side and they sat on the other side with my lawyers sat next to me. There was something very methodical and logical about the approach to questions.
"There were about six people in total, a couple of FBI people and a couple of people from, I suppose, the Mueller team. Over the course of the day they asked me a series of questions about my email, the Trump Tower meeting and about my relationship with my clients, the Agalarovs.
"A lot of friends have asked me did you meet Robert Mueller? I've said even if he came in to change the lightbulb or adjust the air-conditioning I'd probably be horrified by the idea that he was there, considering I hadn't heard he had been in anybody else's. So I was thankful of the fact I didn't see Bob Mueller."
On 9 March, Goldstone voluntarily appeared before the grand jury. He said there were 22 or 23 people in tiered seating.
"Similar sort of thing," he said. "The difference there, you have no lawyers, you're on your own, so that's pretty terrifying. Terrifying even if you know and believe you have nothing to fear."
Unanswered questions
All eyes are on Manafort. Due to be sentenced on charges including bank and tax fraud on 8 February, he is cooperating.
Mueller's team asked for a delay in the sentencing of Rick Gates, Manafort's former partner and a key witness against him. Earlier this month they also asked for a delay before updating a judge about Manafort's cooperation. On Monday, they will submit a report.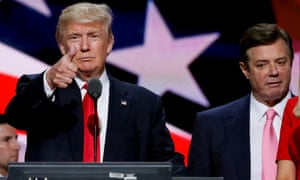 Observers assume that means an indictment is imminent, against someone. If he is not cooperating fully, Manafort could be sentenced more harshly.
Milgram said: "Now the question you and I can't answer is what does Paul Manafort have … is he cooperating against the president, is he cooperating against Donald Jr – and only Mueller knows that right now."
Milgram suspects Mueller was aware the attorney general, Jeff Sessions, was likely to be removed after the midterm elections. The acting attorney general, Matthew Whitaker, is under pressure to keep his hands off the investigation.
"I suspect there are a lot of cases already put into the grand jury, some of those could have been voted out and put under seal," Milgram said. "I think Mueller will have done as much work as possible and have gotten as far as he can prior to the midterms, understanding there was a risk to the integrity of the investigation."
She thought the investigation might have about six months left, although if Trump refuses a face-to-face meeting, Mueller could seek a subpoena to put him before the grand jury. That could be fought all the way to the supreme court.
There is a precedent, US v Nixon, when the justices ruled that the president must deliver subpoenaed materials to a district court. Sixteen days later, Nixon resigned.
If Mueller decides not to have that fight, he could write a report saying he believed the president obstructed justice. If he does not reach that conclusion, the Democratic-led House could issue its own subpoenas.
"It is a chess match," said Milgram. "We'll have to see how it plays out in the next year."
In 2018, the truth came under attack …
… help the Guardian set the record straight. In an era of disinformation campaigns and partisan bots, trustworthy news sources that sort facts from lies are more important than ever. This year we pursued difficult stories in challenging times and delivered factual reporting at a critical time in our history.
In 2018, The Guardian broke the story of Cambridge Analytica's Facebook data breach; we recorded the human fallout from family separations; we charted the rise of the far right, and documented the growing impact of gun violence on Americans' lives. We reported daily on climate change as a matter of urgent priority.
The Guardian is editorially independent – our journalism is free from commercial bias and not influenced by shareholders or politicians. No one edits our editor. No one steers our opinion. This matters because it enables us to give a voice to those less heard, challenge the powerful and hold them to account. And we don't have a paywall, meaning The Guardian's journalism is open and accessible to everyone, regardless of where they live or what they can afford.
At a time when factual reporting is critical, we need your ongoing support to continue bringing The Guardian's independent journalism to the world. Help us defend the truth in 2019 and beyond by making a year-end contribution to The Guardian. Thank you.