Christin Evans' Twitter conversation with Salesforce's Marc Benioff led to his role as a key advocate for San Francisco's Prop C
Christin Evans' Twitter conversation with Salesforce's Marc Benioff led to his role as a key advocate for San Francisco's Prop C
It was a late-night Twitter argument that Christin Evans never planned to have. The San Francisco bookstore owner and homeless advocate used the platform to voice her frustration over a comment from the Salesforce CEO, Marc Benioff – but she never thought he'd reply.
"Is this for real?!" she wrote above a retweeted comment attributed to Benioff referring to San Francisco as the "Four Seasons of homelessness". Tagging him in the tweet, she added: "How out of touch can a billionaire be?!?!" along with a plug to support Proposition C – a city initiative going to voters in November that would tax San Francisco's highest-earning companies to fund new strategies to combat homelessness.
The quote ascribed to him, it turned out, was taken out of context – and the tweet about it got his attention. Within the hour he replied. Some back-and-forth turned into direct messages, Evans says, and before long she had helped bring the billionaire on board as one of the most vocal proponents of Prop C.
Refusing to take all the credit for convincing him, Evans said she could tell Benioff had already been thinking about homelessness and long-term solutions, and had been waiting for an economic impact report on the initiative.
"In the end, it just really got to us having a frank conversation," she explained. "He had felt that he had done a lot for this issue, and we talked about the persistent challenges and basically it became very clear that it is very much an issue that we saw eye-to-eye on. What we need is sustained change, and that comes through a sustained revenue source. That is what Prop C delivers."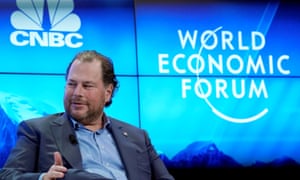 Since their Twitter conversation, Benioff has publicly sparred with Twitter's Jack Dorsey, who is against the measure, personally donated $1m of his own cash, and contributed more than $4m from his company, San Francisco's largest employer. He has written an op-ed in the New York Times, accused other tech billionaires of "hoarding their money", spoken with several reporters, spent hours on local TV and radio, and regularly tweeted about homeless people – and how Prop C would help them – to his 996,000 Twitter followers. He has even changed the photo in his Twitter banner to show his support.
As first reported by Mission Local, Benioff has been frank about how their conversation, and Evans' expertise on the issue, helped shape his views. "Many have asked me over the last 2 weeks what made me finally decide to support Prop C?" Benioff tweeted on 17 October. "After reading the SF city controllers report, reviewing our current homeless crisis, & engaging with @christinevans Who wrote this great article on my 54th birthday."
In her article, published on Noteworthy on 25 September, Evans outlines why she thinks supporting Prop C is essential and a "no-brainer". Advocating for the homeless who sleep on the streets outside her San Francisco bookstore each night is personal.
The Bay Area native and owner of the Booksmith, a decades-old space that peddles books to tourists and residents of the historic Haight-Ashbury neighborhood, said she became a proponent and started working to help the city's homeless people because they are her neighbors, friends and customers – and they had nowhere to go.
"To see someone in clear despair, who is not getting assistance, really motivated me to get involved in this campaign," she said, adding that she began by hosting community panels and forums on the topic of homelessness at the bookstore when she bought it in 2007. She volunteered as one of three proponents of the measure, ushering it through the signature collection process and on to the ballot. That's why, when the opportunity to talk to Benioff presented itself, she was ready.
The shift in his support may have spurred a shift across the city. Largely because of Benioff's contributions, the "Our City, Our Home" fund supporting Prop C has eclipsed funding against it.
The ballot measure, which will be put to voters this November, has been contentious, pitting tech industry leaders against one another and putting progressive politicians at odds. Tech companies including Lyft, Stripe, Square and Visa have poured hundreds of thousands into the "No on Prop C" campaign. San Francisco's new mayor, London Breed, has also come out against the measure, citing concerns about how the funds will be used, while Senator Dianne Feinstein and the House Democratic leader, Nancy Pelosi, have supported it.
According to estimates from the controller's office, the tax would generate up to $300m a year, used to combat the city's continued crisis that leaves 7,500 people without housing. Charged from the revenues of between 300 and 400 local businesses, all which bring in over $50m in earnings per year, the measure would increase their taxes by roughly 0.5%, and almost double what is currently spent on tackling the issue. Half would go to increasing affordable housing units, in a city where affordable housing is scarce and housing in general is hard to come by.
Evans is optimistic about November, even amid the divisiveness. She emphasized that 600 volunteers showed up to gather signatures and they were able to get 28,000 to sign on, more than three times the number required. "That was the first indication that this was a grassroots-led effort," she says. "It is something that the city has wanted to see happen for a long time."
But the opposition is fueling its own campaign, working to convince the city's residents that the revenue tax is ill-advised for business or could lead to a lack of accountability when it comes time to spend the sums collected. Evans – with the help of Benioff's surge in support – is hoping voters see it the way she does.
"It is not just a practical business idea. It is also the fact that we are a wealthy city," she said. "Income inequality has really grown and we want to take care of our own. And we can afford to take care of our own."
Since you're here …
… we have a small favour to ask. More people are reading The Guardian's independent, investigative journalism than ever but advertising revenues across the media are falling fast. And unlike many news organisations, we haven't put up a paywall – we want to keep our reporting as open as we can. So you can see why we need to ask for your help.
The Guardian is editorially independent, meaning we set our own agenda. Our journalism is free from commercial bias and not influenced by billionaire owners, politicians or shareholders. No one edits our editor. No one steers our opinion. This is important because it enables us to give a voice to the voiceless, challenge the powerful and hold them to account. It's what makes us different to so many others in the media, at a time when factual, honest reporting is critical.
If everyone who reads our reporting, who likes it, helps to support it, our future would be much more secure. For as little as $1, you can support the Guardian – and it only takes a minute. Thank you.