Aras Agalarov, who helped arrange the meeting with Donald Trump Jr in June 2016, formed a shell company with an accountant who has had clients accused of money laundering and embezzlement
A Russian billionaire who orchestrated the June 2016 Trump Tower meeting formed a new American shell company a month beforehand with an accountant who has had clients accused of money laundering and embezzlement.
The billionaire, Aras Agalarov, created the US company anonymously while preparing to move almost $20m into the country during the time of the presidential election campaign, according to interviews and corporate filings.
The company was set up for him in May 2016 by his Russian-born accountant, who has also managed the US finances of compatriots accused of mishandling millions of dollars. One of those clients has its own connection to the Trump Tower meeting.
In June 2016, Agalarov allegedly offered Trump's team damaging information from the Kremlin about Hillary Clinton, their Democratic opponent. The offer led Trump's eldest son to hold a meeting at their Manhattan offices that is now a focus of the inquiry into Moscow's election interference by Robert Mueller, the special counsel.
Agalarov's previously unreported shell company is another example of intriguing financial activity around the time of the Trump Tower meeting. Mueller is looking into such activity and whether any of the money involved could have been used to fund Russian meddling in the US election, which Agalarov denies.
Scott Balber, Agalarov's attorney, said the company was formed for "real estate transactions" and did not elaborate. Ilya Bykov, the accountant, said it was created to "handle certain investment projects which never materialised".
Balber said in an email: "For the avoidance of any doubt, no Mr Agalarov has not used his accountant – or anyone else – to commit any wrongdoing and no Mr Agalarov has not used the money you referenced – or any other money – to fund any activity relating to the US election."
Agalarov, 62, is a Moscow-based property developer who has won major contracts from Vladimir Putin's government. He hosted Trump's 2013 Miss Universe contest at his concert hall in Moscow. A leaked opposition research dossier alleged that Russian officials obtained compromising information about the future president during his stay in the city. Trump has denied wrongdoing and claims the dossier is false.
Early in June 2016, a publicist for Agalarov and his son, Emin, said in an email to Donald Trump Jr that Agalarov had been offered "documents and information that would incriminate Hillary" by a Russian prosecutor. The publicist said the material was "part of Russia and its government's support for Mr. Trump – helped along by Aras and Emin".
On 9 June, one of Agalarov's top executives and several other Russians met Donald Trump Jr and two other senior Trump aides at Trump Tower to discuss the offer.
A month earlier, Bykov, Agalarov's US-based accountant, had incorporated a corporation for him in Delaware, a state favoured by businesses for its low taxes and protection of corporate secrecy. Agalarov was not named in the paperwork but Bykov was listed as the company's president and director.
BuzzFeed News reported last month that Agalarov moved $19.5m from an offshore investment vehicle to a US bank account 11 days after the meeting. The transfer was reportedly flagged to US Treasury officials as suspicious. The Delaware company used the same name, Silver Valley Consulting, as the offshore vehicle.
On the day of the money transfer, Trump fired his campaign manager, Corey Lewandowski, leaving his campaign chairman, Paul Manafort, in charge. Manafort, who has extensive business links to the former Soviet Union, is now cooperating with Mueller after having been convicted of financial crimes.
Having initially said that Agalarov's Delaware company was formed to handle investments that did not materialise, Bykov later said it was actually set up specifically to receive the $19.5m money transfer, but that the money was ultimately sent to Agalarov's personal US bank account instead.
Bykov said Agalarov used some of the transferred funds to buy an apartment in Florida and to pay down personal debt. Property records from Miami-Dade county state that Agalarov bought an apartment there in April 2016, before the company was created and the money was transferred. Bykov said the money was used to buy a different apartment, but did not give details.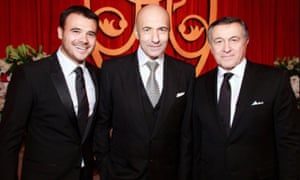 A 60-year-old US citizen and graduate of New York University, Bykov leads a Manhattan-based firm that provides US legal and financial services for some of Russia's wealthiest people. Among them is Igor Krutoy, a composer and prominent Putin supporter, who was part of a consortium that tried in 2011 to develop a hotel in Latvia with Trump. Krutoy was not accused of any wrongdoing.
Bykov dismissed suggestions that Agalarov was part of Russia's election interference as "sensationalism" from critics of Trump. "Aras is a fantastic guy," he said. "A great guy. Very accomplished, very fair, very likable, very open, very down to earth, very smart."
Another of Bykov's clients is separately linked to the Trump Tower meeting. Natalia Veselnitskaya, a Kremlin-linked Russian attorney who attended the meeting, was at that time representing Prevezon Holdings, a Russian investment company. Prevezon was being sued by the US government for allegedly laundering part of $230m stolen by a Russian criminal network into upscale New York condominiums.
Corporate filings to New York state regulators show that several of the Prevezon companies allegedly used for money laundering were registered to Bykov's offices.
During an interview earlier this year, Bykov first suggested that the Prevezon he worked with was a different company using a similar name, which was "selling some electronics". But he later confirmed his firm "provided bookkeeping and tax services for a short period of time" for the Prevezon pursued by the US government. The company was officially owned by Denis Katsyv, a Russian businessman.
Bykov said his firm ran checks on Katsyv, and these "did not reveal any information, negative or otherwise". He said he eventually ended the business relationship over disagreements about information that Prevezon was required to disclose for tax purposes. Bykov denied any involvement in Prevezon's alleged wrongdoing.
The justice department announced in May last year that Prevezon would pay a $5.9m settlement to halt the government's legal action. No wrongdoing was admitted and Prevezon maintained its innocence.
Bykov also managed the US financial affairs of Larisa Markus, the ex-president of Russia's Vneshprombank. Markus is now serving a nine-year prison sentence in Russia, having been convicted of embezzling about $2bn of the bank's money before it collapsed in 2016.
Vneshprombank was sued in New York by a creditor that alleged Markus used the stolen funds to pay for apartments she bought in New York through a network of shell companies. These companies were registered to Bykov's office. Separately, Bykov was subpoenaed for his records on Markus by the bank in US bankruptcy court.
The creditor's lawsuit against the bank was dismissed after a judge ruled the bank was protected by the contract between them. The bankruptcy case remains open.
Bykov said lawyers who reviewed Markus's financing for him were satisfied it was legitimate. "I have to be very, very careful, because on one hand I have a response for the client and on the other hand I have a response for the law," said Bykov. "And they're not always identical."
He said Markus was innocent and was made a scapegoat for Vneshprombank's collapse. "Larisa was a victim of what's going on in Russia," said Bykov. "Not for one second do I believe she was involved in stealing this money."
Bykov said he had no involvement in misconduct and that the vast majority of his clients had spotless records. He said: "If, out of 500 clients over 15 years, three were accused of doing something wrong, that's a pretty good number, don't you think?"
Since you're here…
… we have a small favour to ask. More people are reading the Guardian than ever but advertising revenues across the media are falling fast. And unlike many news organisations, we haven't put up a paywall – we want to keep our journalism as open as we can. So you can see why we need to ask for your help.
The Guardian is editorially independent, meaning we set our own agenda. Our journalism is free from commercial bias and not influenced by billionaire owners, politicians or shareholders. No one edits our editor. No one steers our opinion. This is important because it enables us to give a voice to the voiceless, challenge the powerful and hold them to account. It's what makes us different to so many others in the media, at a time when factual, honest reporting is critical.
If everyone who reads our reporting, who likes it, helps to support it, our future would be much more secure. For as little as $1, you can support the Guardian – and it only takes a minute. Thank you.