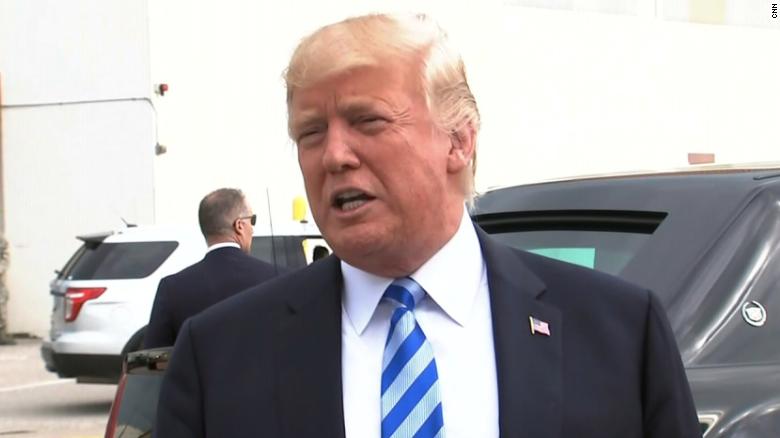 (CNN) — Two massive clouds that have been hanging over Donald Trump's presidency for months broke open almost simultaneously on Tuesday afternoon — and poured rain all over the President.
Between 4 p.m. and 5 p.m. Eastern time, two narratives — both disastrously bad for Trump — emerged:
1. Paul Manafort, the man who spent five critical months leading Trump's campaign in 2016, was found guilty of eight financial crimes. On the 10 other charges brought against Manafort, the jury couldn't reach a unanimous conclusion and the presiding judge declared a mistrial on those counts.
2. Longtime Trump personal attorney and fixer Michael Cohen agreed to a plea deal with the Southern District of New York in which he admitted guilt on eight charges and acknowledged that he had discussed or made hush payments to two women alleging affairs with Trump in order to keep damaging information from becoming public, at the direction of and in coordination with a candidate for federal office. That candidate, although Cohen didn't name him, is obviously Donald Trump.
Either of these developments could make for a disastrous week for the President of the United States, who has watched special counsel Robert Mueller's investigation into Russian 2016 election interference draw ever closer to him as it has gone along. But for both Manafort to be found guilty and Cohen to not only plead guilty but to implicate Trump in a payoff that violates campaign finance law is, literally, catastrophic for the Trump White House.
While both stories are very big deals, the Cohen plea is more important in terms of its direct impact on Trump.
Remember that Cohen has acknowledged discussing or making payments to both porn star Stormy Daniels and ex-Playboy model Karen McDougal during the course of the 2016 campaign as a way to ensure their silence about alleged affairs they conducted years earlier with Trump.
Cohen at first insisted that the Daniels payment was made out of his own pocket and without any direct or indirect knowledge by Trump. Of the payoff, Cohen said back in February: "In a private transaction in 2016, I used my own personal funds to facilitate a payment of $130,000 to Ms. Stephanie Clifford. Neither the Trump Organization nor the Trump campaign was a party to the transaction with Ms. Clifford, and neither reimbursed me for the payment, either directly or indirectly."
In a New York City courtroom on Tuesday, Cohen admitted that wasn't true. He said he sought to keep the payments — as well as their source — out of the public eye "in coordination and at the direction of a candidate for federal office."
And those 12 words are a very, very, very big problem for Donald Trump. Here's why.
In April, Trump was asked about the Stormy Daniels payout by reporters. Here's that exchange:
Reporter: "Did you know about the $130,000 payment to Stormy Daniels?"
Trump: "No."
Reporter: "Then why did Michael Cohen make [the payment], if there was no truth to her allegations?"
Trump: "You'll have to ask Michael Cohen. Michael's my attorney, and you'll have to ask Michael."
Reporter: "Do you know where he got the money to make that payment?"
Trump: "No I don't know."
We've already learned, thanks to Trump lawyer Rudy Giuliani,
that Trump paid Cohen back the $130,000
that was funneled through a shell company knows as Essential Consultants LLC to Daniels. But even that admission still gave Trump some level of plausible deniability: Sure, he was regularly paying Cohen a retainer to fix problems, but Trump never knew about any of the details of the payments or what they were for.
Like what you're reading?
Except that's no longer accurate, according to what Cohen said as part of the plea deal. If Cohen was contemplating the payment to Daniels and McDougal at the "direction" of and in "coordination" with Trump, it's impossible for the President's statements made aboard Air Force One back in April to be accurate. Literally impossible.
What that means — if Cohen's plea is to be taken at face value, which the Southern District of New York quite clearly does — is that Trump may have not only sought to end-run campaign finance laws in coordination with Cohen in hopes of keeping allegations about his romantic life private but also lied about it.
That. Is. A. Massive. Deal. MASSIVE.
Now, on to Manafort. There was a tendency among some in the immediate aftermath of the ruling to point out two bits of allegedly good news for Manafort/Trump: 1) 10 of the 18 charges had been declared a mistrial and b) the charges all dealt with time long before Manafort came into Trump's orbit.
What that overlooks is that a) Even if the 10 other charges aren't re-tried, Manafort is going to spend years in jail and b) Manafort was Trump's lead campaign operative for an absolutely critical time of Trump's ascent to the presidency.
No matter what Trump says now about how little Manafort did in the campaign or how short a period of time he spent on the campaign, the fact of Manafort's essential role within the campaign is indisputable. And at the very least, Trump's decision to hire Manafort badly undermines the President's oft-repeated promise on the campaign trail that he would only hire the best people in his White House. Trump's former campaign manager has now been found guilty on eight felony charges of financial wrongdoing. You can't just wave that off. Or we shouldn't just wave that off.
I wrote recently that the
next two weeks would be an absolutely critical moment for Trump's presidency, for the broader Republican Party and for the country
. Now, in the space of a single hour, two massive dominoes have fallen — and they both landed on Trump. While the Manafort news is more of a glancing blow, the Cohen plea deal is, without question, the biggest problem for Trump personally that has emerged publicly to date. We are talking about the President of the United States being implicated in a purposeful and coordinated attempt to break campaign finance laws. And to do so in service of keeping allegations about his private life out of the public eye during a campaign for the highest office in the land — an office he won just 11 days after Cohen paid off Daniels.
It's the stuff of nightmares for Trump and his inner circle, sure. But it also poses huge risks for a Republican Party that has largely tolerated Trump's radical presidency in hopes of securing things like long-term conservative dominance on the Supreme Court or a tax cut law. What can or will the congressional leaders within the party say — particularly given that the 2018 midterm election is now less than 100 days away?
This is a day — and an hour — the Trump operation and the broader Republican Party has long dreaded, and likely had come to believe might never arrive. But here we are.
The fallout from this most newsy of hours in the Trump presidency will almost certainly transform the political landscape in the coming days and weeks. Most pressingly, Trump or his lawyers need to try to find some way to explain why he insisted he knew nothing about the payment to Daniels when Cohen has said he kept harmful information from becoming public at Trump's — or a "candidate's" — behest. But other questions will have to be asked (and answered) quickly as well: Do Republicans stand by Trump? Does impeachment chatter pick up outside of the fringes of the left? How does the always mercurial Trump react on Twitter to what looks like being caught in a blatant lie?
And then of course there remains Mueller and the report he is working on to detail his findings about Russia's interference in the 2016 election, the possibility of collusion between Russia and the Trump campaign and whether or not Trump may have obstructed the investigation being run out of the FBI.
We don't know the hour — or the day — the Mueller report will be released. But that may be the only hour that could eclipse the disastrous 60 minutes Trump endured on Tuesday.