The Hague's new crime of aggression might give belligerent heads of states a reason to pause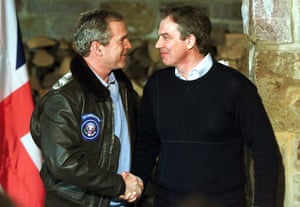 Tuesday is a red-letter day for international law: from then on, political and military leaders who order the invasion of foreign countries will be guilty of the crime of aggression, and may be punishable at the international criminal court in The Hague. Had this been an offence back in 2003, Tony Blair would have been bang to rights, together with senior numbers of his cabinet and some British military commanders. But if that were the case, of course, they would not have gone ahead; George W Bush would have been without his willing UK accomplices.
The judgment at Nuremberg declared that "to initiate a war of aggression … is the supreme international crime". But this concept never entered UK law (as the misguided crowdfunded effort to prosecute Blair discovered last year). International acceptance of it stalled until states could agree on an up-to-date definition. The crime was included in the ICC jurisdiction back in 1998, but was suspended until its elements could be decided (in 2010) then ratified by at least 30 states (in 2016). At last it is finally being "activated". In the meantime, Iraq and Ukraine have been invaded and other countries threatened, while Donald Trump attacked Syria last year. Now, the very existence of the crime of aggression offers some prospect of deterrence, and some degree of certainty in identifying the criminals.
The crime will be committed by those who direct the use of armed force against the "sovereignty, territorial integrity or political independence" of another member state, in a manner which "by its character, gravity, and scale" amounts to a "manifest violation" of the UN charter (which prohibits such attacks, other than in self-defence). This allows some wriggle room – Trump's attack on Syria lacked the "gravity and scale" required (it did little damage) but it might well apply to Russia for its incursions into Ukraine – the test is whether Vladimir Putin and his armed forces were "substantially involved", whether secretly or by proxy, in the use of armed force. Self-evidently, it would have incriminated those who ordered the invasion of Iraq.
The definition has a few holes: it does not cover cyber-attacks, for example, which do not take human life (at least not yet) and it does not incriminate leaders of Islamic State or other terrorist groups – defendants must be in command positions of the aggressor state.
There is a question of whether it would deter "humanitarian intervention" – a right to invade to relieve extreme humanitarian distress if there is no other way to save lives. My own view is that genuine humanitarian action will escape liability, whatever its scale and gravity, because its "character" (that is, to put an end to crimes against humanity) will be consistent with (and not a "manifest" breach of) the UN charter.
Although ICC jurisdiction over aggression is activated this week, its direct power of prosecution will only apply to nationals of states that have ratified the newly defined crime. Only 35 have stepped forward so far, mainly from Europe, and the UK, quite disgracefully, has done all it can to block the process (in remembrance, perhaps, of Tony Blair). It must be put under public pressure to change course.
British politicians (and others from non-ratifying states) can be charged as a result of a reference by the security council to the ICC, but here Britain has a veto, along with the US and Russia. So the crime of aggression, once up and running, will not in practice run very far: the superpower veto means that it will not be allowed to finger the collar of any politician or military leader who has acted in alliance with one of the security council's "big five".
Nonetheless, Tuesday marks the completion of the arsenal of international criminal law, irrespective of whether its latest weapon will be used. The very fact that it might conceivably be deployed will provide some measure of deterrence, by informing the international community of a legal red line and encouraging public protest when it is in danger of being overstepped.
It is hardly surprising that Lithuania, Latvia and Estonia were among the first to ratify the crime: it will not stop a Russian invasion, but its existence as an international law offence might give Putin a reason to pause. Sending assassins armed with polonium or novichok to another state to kill its citizens might also qualify as aggression – a fact that makes the UK government's refusal to ratify the amendment stupid as well as hypocritical.
• Geoffrey Robertson is a human rights barrister
Since you're here…
… we have a small favour to ask. More people are reading The Guardian than ever but advertising revenues across the media are falling fast. And unlike many news organisations, we haven't put up a paywall. We want our journalism to remain accessible to our global audience. Our readers' contributions enable us to maintain this openness, so we can all access accurate information and analysis.
The Guardian's independent, investigative journalism takes a lot of time, money and hard work to produce. But we do it because we believe our perspective matters – because it might well be your perspective, too. For as little as $1, you can support the Guardian – and it only takes a minute. Thank you.