Elon Musk's battery-powered semi may be a beast on the road, but does it have what it takes to move a market?
Tesla Inc. is about to introduce its biggest product yet, at least in terms of raw tonnage.
Tesla Chief Executive Elon Musk has promised to unveil an electric semi truck on Thursday that will drive like a sports car and beat its diesel counterpart in a tug of war. "This will blow your mind clear out of your skull and into an alternate dimension," he wrote on Twitter this week. But none of that really matters.
Unlike the U.S. market for luxury sedans and SUVs, where Tesla has been able to succeed against stylish, high-priced rivals with stylish, high-priced electric vehicles, truck drivers and delivery fleets need to make money with their big rigs. It's an unglamorous and ultralow-margin business in which one factor matters above all else: cost. And the truck market is huge. In North America alone, the largest heavy duty freight trucks—Class 8 semis—account for about $30 billion in sales each year, or more than 250,000 new trucks, according to industry data tracked by Bloomberg.
Tesla's foray into commercial trucking is coming at an impossibly tough time for the company. Its first mass-market car, the Model 3, is already months behind schedule, and Tesla is spending a billion dollars a quarter to get things up to speed. Skeptics will see the truck unveiling as a distraction from the company's biggest existential test yet.
But this isn't a product launched on a whim. Tesla has been secretively working on this truck for the past two years under the leadership of Jerome Guillen, who ran development of Daimler's vaunted Freightliner semis before joining Tesla in 2010. He took over the truck program after leading development of the Tesla Model S luxury sedan. (As far back as a year ago, I spoke to a person close to the company who had already been for a ride in one of Guillen's Tesla Truck prototypes.)
The Tesla Truck is aimed squarely at one of the biggest unaddressed segments of Musk's self-declared mission "to accelerate the world's transition to sustainable energy." Here's a look at what it would take in terms of cost and performance to shift freight from diesel to electric and shake up the world of trucks.
Taking Diesel Out of Trucks Won't Be Easy
Electric motors have clear advantages for hauling: instant power, zero tailpipe pollution, supercheap fuel, and fewer moving parts to maintain. In financial terms, these advantages are most easily realized in local delivery trucks, which start and stop frequently and can return to a central hub at night for charging. That's why the pilot electric trucks to come from more established competitors such as Cummins and Daimler have ranges of 100 to 220 miles.
While Tesla hasn't disclosed specifications for its upcoming truck, the company appears to be aiming at something bigger: longer ranges and possibly even true long-haul trucking routes. A Reuters report in August that suggested Tesla would offer a truck with a range of 200 to 300 miles, perhaps short of long-haul status, became accepted wisdom among Wall Street analysts. Musk, as he often does, took to Twitter to promise something more: "Semi specs are better than anything I've seen reported so far," he wrote last month.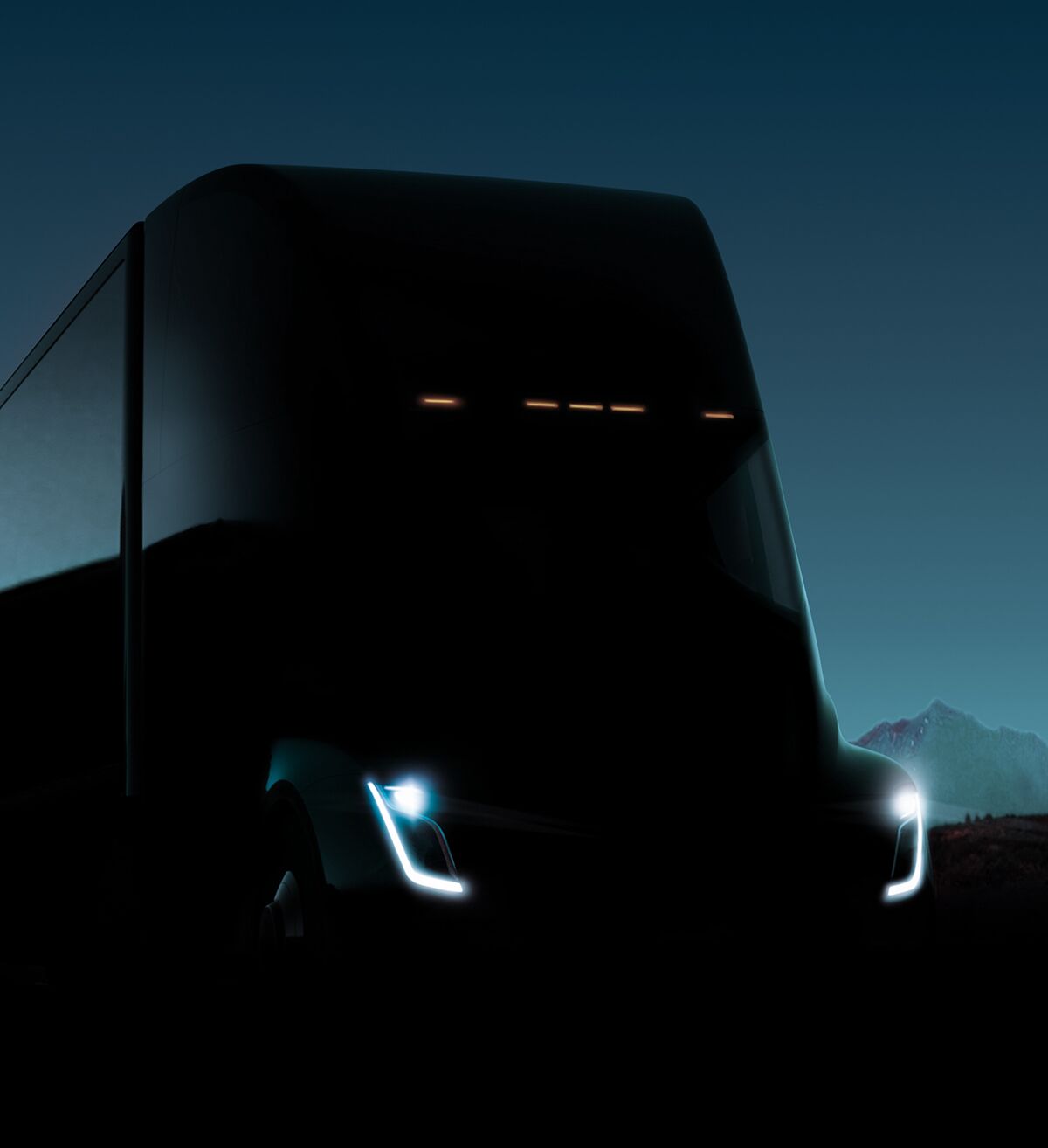 Class 8 trucks, which have a loaded weight rating of at least 33,000 pounds, come in a variety of shapes and sizes, from trash trucks and cement mixers to city buses all the way up to tractor-trailers whose drivers spend days and nights living on the road. The most common day cab delivery trucks cost around $100,000, and big rigs with sleeper cabins are about $150,000. While the Tesla Truck will likely address more than one application, the battery size will say a lot about Tesla's real focus.
Batteries are the single most expensive component of an electric truck, and the battery of a cross-country hauler could cost $100,000 even before they build the truck around it, according to prices tracked by Bloomberg New Energy Finance. The sticker price of any electric truck, regardless of size, is going to be higher than its diesel equivalent because of those costly batteries.
But that upfront investment can be offset by cheaper operating costs. Running a truck on electricity saves tens of thousands in fuel costs as well as savings of roughly 7 cents a mile on lower maintenance costs, according to Bloomberg estimates. Then there's Tesla's wild card: Will the truck, expected to roll out by 2020, come with some level of autonomous driving? Tesla has been in talks with California and Nevada agencies about testing semis that can automatically follow a lead vehicle, a technique known as "platooning." Platooning cuts fuel costs by reducing wind drag. And if the autonomous driving system is good enough to run without a driver, it could also dramatically cut labor expenses, which add about 57 cents for every mile on the road.
For a Tesla Truck to truly begin to take diesel market share, savings will need to offset the higher stick price in about two years, according to the average estimate of six analysts surveyed by Bloomberg. With a payback period much beyond two years, Tesla would need to establish a track record of reliability and high resale values before any of the major trucking fleets would take a risk on it, said Lee Klaskow, a senior transport analyst at Bloomberg Intelligence.
A Sleeper Truck?
A rough way to gauge Tesla's initial truck ambitions involves asking a simple question: Would anyone sleep in this truck?
Any range less than 400 miles is likely meant for local and regional deliveries, the sort of thing done by UPS and FedEx or the type of hub-and-spoke model used by giant retailers such as Wal-Mart Stores Inc. to move goods from distribution centers to stores or warehouses. If Tesla wants to go after the longest routes to replace what are known as "over-the-road" trucks, which feature sleeping cabins for multi-day driving stretches, the company will need a range of at least 500 miles—or else a way to charge an electric truck that's faster than anything in use now. The battery needs for each of these categories would be different, and so would the costs.
Here are two scenarios for how a battery-powered truck would compete with the diesel equivalents for both local deliveries (trucks known as day cabs) and long-distance hauling. These are both ambitious assumptions, suggesting unprecedented range and industry-leading battery prices. But only by offsetting the higher upfront cost can Tesla achieve the magical two-year payback period and convince truckers to ditch diesel.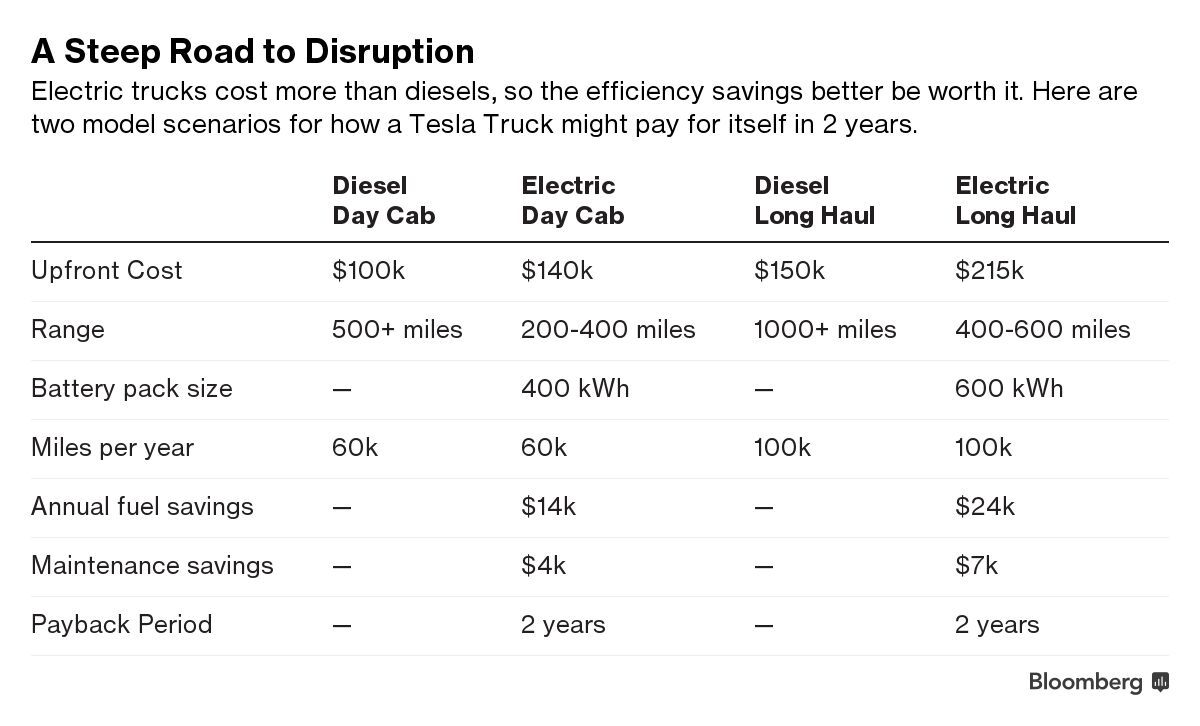 Finding the Electric Truck Advantage
Tesla could lower the sticker price.
Pairing smaller batteries with an accelerated charging technology, such as an upgraded Supercharger or a battery-swap program, would bring down costs and make it easier to compete with diesel rigs. But that, too, would come at a cost. Fast charging incurs what the electric utilities call demand charges—significantly higher commercial rates for power hogs—which could wipe out much of the fuel savings promised by an electric truck. Another option would be for Tesla to lease the trucks or even just the batteries, to spread the sticker price over several years.
The other source of potential savings to trucking companies is the maintenance, which costs roughly 19 cents per mile driven in a standard diesel truck, according to company data compiled by Bloomberg. Electric vehicles don't need oil and fluid changes, and the brakes won't need to be replaced as often because of regenerative brakes that convert kinetic energy into stored battery power. The chart above reduces maintenance costs by about a third for electric trucks. However, there's no way to know for sure how to assess the maintenance savings until more electric trucks are on the road.
Musk has said his goal is to produce electric powertrains that can run a million miles without breaking down. Still, Tesla has no track record of being able to deliver such savings for an industry that tests the limits of a vehicle by hauling 80,000 pounds in the heat and cold, every day of the year.
Big Trucks, Small Margins
The video above, of an apparent Tesla prototype, is the first hint of what the company is going for. It shows a Class 8 semi, which is the biggest segment of medium- or heavy-duty truck. It's also the toughest for newcomers to crack. Margins are small, and trucking companies such as Swift, Ryder, and J.B. Hunt succeed by "sweating their assets," said Bloomberg Intelligence's Klaskow. In other words, the biggest players are good at keeping their trucks in excellent driving condition and optimizing time on the road. They're also averse to messing with the supply chain.
"This is not a proven technology for trucking," Klaskow said. "I think electrification is the future, but I don't think it's the future of tomorrow, or next week, or 2020. It's going to take time before people are comfortable with it."
So Tesla is going after a tough market, but electric vehicle analyst Nikolas Soulopoulos of Bloomberg New Energy Finance points to some of Tesla's specific advantages. Take, for example, the exhaust system on a Class 8 truck. Emissions controls must be tailored to meet the local pollution requirements in every country the vehicles operate, sometimes at great expense to the truck maker. Electric trucks won't have to bother with emissions, since they don't produce any.
Another potential edge comes from battery adaptability. While Class 8 diesel trucks typically deploy the same engine for widely varying jobs, making it sometimes oversized for the job, Tesla might be able to offer a smaller battery pack for a truck making urban deliveries and a larger pack for trucks dedicated to reaching a regional distribution center. "This is a very big advantage," Soulopoulos said.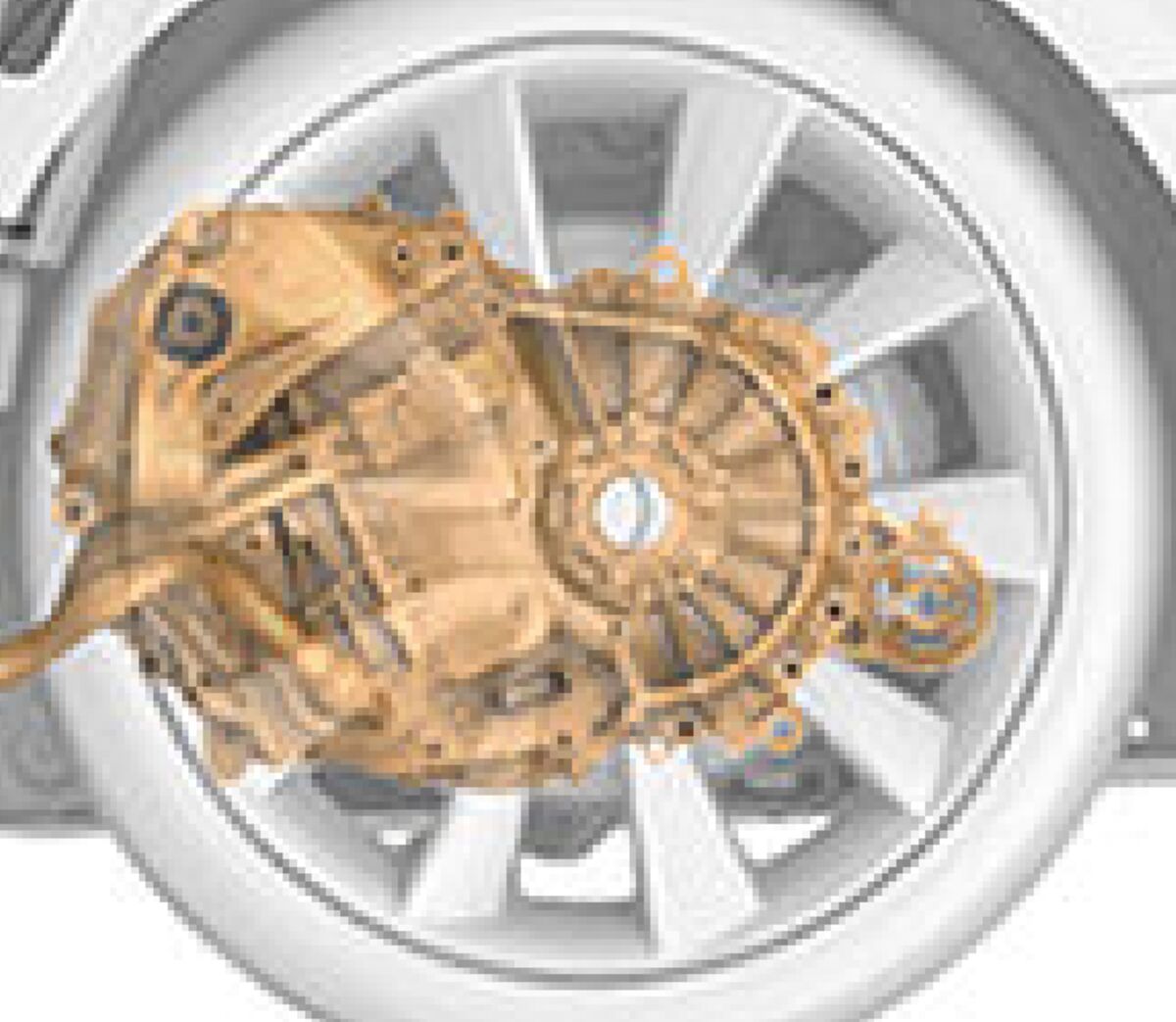 Perhaps Tesla's biggest advantage over other truck makers is that its semi will share some core parts with the Model 3. Musk disclosed during an earnings call in May that the semi uses "a bunch" of Model 3 motors, which sit in line with the truck's axles. These relatively cheap electric motors will give the semis unparalleled electric torque for getting quickly up to speed with a heavy load.
While traditional trucking companies have the advantage of letting their profitable diesel programs subsidize development of electric drivetrains, that ultimately means one business line will cannibalize the other. For Tesla, the risks are all upfront. The cost of getting into trucking adds a financial burden during an already fraught period in the company's history. But longer term, the sharing of electric motors and battery cells should drive down the price of those components for both vehicles. In fact, every time the global supply of batteries doubles, the cost of making them drops by 19 percent, according to Bloomberg Energy Finance data.
For Tesla, Musk said, trucks are "just a very compelling product that has a low unit cost."
Before Tesla started making electric cars, the belief among major oil companies and energy analysts was that oil demand would only continue to grow for the foreseeable future. Now, with the shift to electric passenger vehicles becoming clear, the conventional wisdom is that the freight industry will sustain oil demand for decades to come. Trucks currently account for about a fifth of the world's oil demand, and the International Energy Agency projects an increase of 40 percent by 2050 if business proceeds as usual.
The truck unveiled in California this week may offer the first indication of whether Tesla will do to the trucking industry what it's already done for the automotive industry: change what people think is possible.