The FBI is scrutinizing more than 60 money transfers sent by the Russian foreign ministry to its embassies across the globe, most of them bearing a note that said the money was to be used "to finance election campaign of 2016."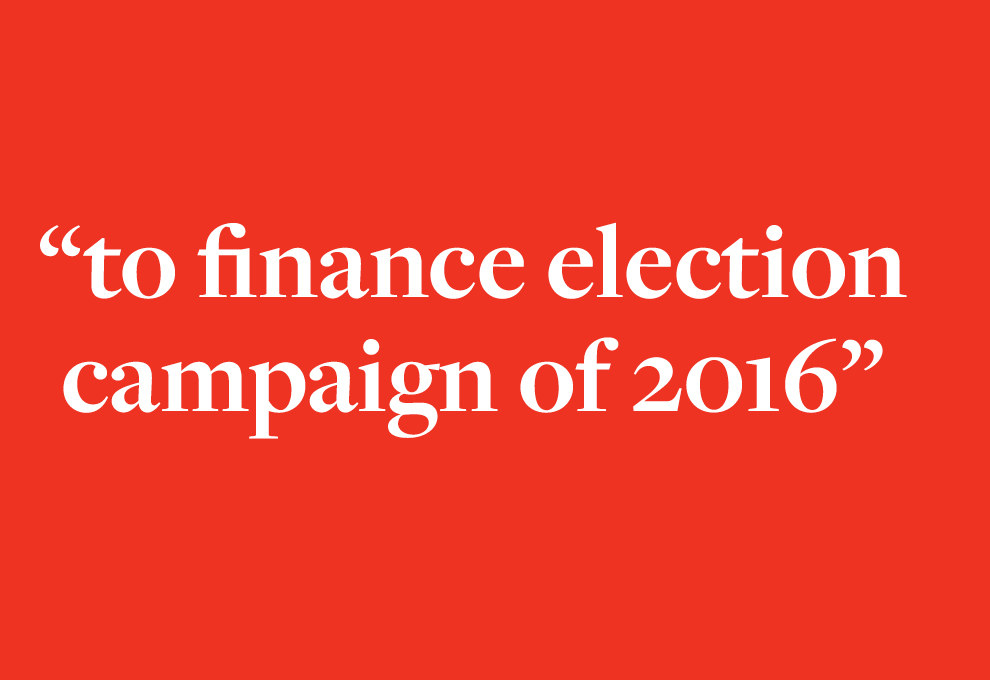 On Aug. 3 of last year, just as the US presidential election was entering its final, heated phase, the Russian foreign ministry sent nearly $30,000 to its embassy in Washington. The wire transfer, which came from a Kremlin-backed Russian bank, landed in one of the embassy's Citibank accounts and contained a remarkable memo line: "to finance election campaign of 2016."
That wire transfer is one of more than 60 now being scrutinized by the FBI and other federal agencies investigating Russian involvement in the US election. The transactions, which moved through Citibank accounts and totaled more than $380,000, each came from the Russian foreign ministry and most contained a memo line referencing the financing of the 2016 election.
The money wound up at Russian embassies in almost 60 countries from Afghanistan to Nigeria between Aug. 3 and Sept. 20, 2016. It is not clear how the funds were used. At least one transaction that came into the US originated with VTB Bank, a financial institution that is majority-owned by the Kremlin.
The US Treasury Department placed VTB Bank under sanctions in 2014, following Russia's annexation of Crimea. The sanctions prohibit VTB Bank from raising capital or accepting loans from American individuals or companies. A wire transfer to the embassy's US bank account is permitted, however, and Citibank has not been accused of any wrongdoing.
In a statement, Citibank spokesperson Jennifer Lowney wrote that the financial institution is "diligent" in reporting suspicious transfers but that "given the confidential nature of these reports, we do not comment on or confirm any particular report or transaction."
After discovering the $30,000 transfer to the embassy in Washington, Citibank launched a review of other transfers by the Russian foreign ministry. It unearthed dozens of other transactions with similar memo lines. Compliance officers in Citibank's Global Intelligence Unit flagged them as suspicious, noting that it was unable to determine the financial, business, or legal purpose of the transactions.
Much as checks include a memo line, wire transfers often include a note that states what the money is for. The note on this set of transfers does not indicate what election the money was to be used for, or even the country. Seven nations had federal elections during the span when the funds were sent — including the Duma, Russia's lower house of Parliament, on Sept. 18, 2016. Russian embassies and diplomatic compounds opened polling stations for voters living abroad.
The FBI was first made aware of the suspicious transactions two months ago. Two FBI sources said that FBI legal attaches in other countries are now investigating whether the money may have been used for the US presidential election and, if so, how.
Officials with the Russian embassy and the Russian foreign ministry did not return multiple phone calls or emails seeking comment. A VTB spokesperson said in a statement: "VTB strictly conducts its operations in full compliance with applicable rules and regulations. The U.S. banks also monitor and abide by all the restrictions imposed by the (Office of Foreign Assets Control)."
This past January, the United States' Office of Director of National Intelligence, in a "high-confidence" assessment, concluded that Vladimir Putin personally signed off on an influence campaign to help Donald Trump win the presidency. Now, the FBI, a special counsel, and three congressional committees are conducting investigations. The committees have formally requested a wide range of banking and financial records on numerous individuals and businesses with ties to Russia from the Treasury Department's Financial Crimes Enforcement Network, or FinCEN for short.
Specifically, the Senate Intelligence Committee committee asked FinCEN for "any actions" the agency took to support law enforcement or intelligence inquiries about these individuals and businesses, any documents it sent to the FBI, and any requests for information it sent to banks. A separate letter sent to the Treasury Department by the Senate Permanent Subcommittee on Investigations sought information on the sanctioned bank.
These requests led to the discovery of the wire transfers. Two congressional sources said the Senate Intelligence Committee is aware of the transactions. Spokespeople for the committees would not comment.
All financial institutions are required to tell FinCEN about any transactions they deem suspicious. Such "suspicious activity reports" do not necessarily prove or even indicate wrongdoing. Federal law also requires financial institutions to file reports on any cash transactions of more than $10,000 in a single day, even if those transactions are legitimate. Banks must also file the reports whenever they suspect money laundering or other financial crimes.
Following the congressional requests, Citibank turned over a range of financial documents. The material includes more than 650 suspicious transactions between November 2013 and March 2017 totaling about $2.9 million. That money was sent to four Russian accounts operating in the US: the embassy; the Office of Defense, Military, Air and Naval Attaches; and Russian cultural centers in Washington and New York City.
Most of these wire transfers were not related to the election, sources say, but are the subject of FBI scrutiny for their possible ties to Russian corruption and money laundering.
The FBI and congressional investigators are now inspecting each of those transactions.
One FBI special agent said the transfers are critical for the bureau and lawmakers investigating Russia's interference in last year's presidential election. He said even if there is a logical explanation for the suspicious wire transactions the FBI has to investigate what the money was used for.
"We had an election and the intelligence community concluded Russia interfered in it," said the FBI agent. "How could we not investigate a suspicious financial transaction that contained a memo that said, 'finance election campaign 2016?' Given the climate and what was in that memo line it would be very irresponsible for us not to investigate. It's a good lead."
Jason Leopold is a senior investigative reporter for BuzzFeed News and is based in LA. Recipient: IRE 2016 FOI award; Newseum Institute National Freedom of Information Hall of Fame. PGP fingerprint 46DB 0712 284B 8C6E 40FF 7A1B D3CD 5720 694B 16F0. Contact this reporter at jason.leopold@buzzfeed.com
Contact Jason Leopold at jason.leopold@buzzfeed.com.
Anthony Cormier is an investigative reporter/editor for BuzzFeed News and is based in New York. While working for the Tampa Bay Times, Cormier won the 2016 Pulitzer Prize for Investigative Reporting.
Contact Anthony Cormier at anthony.cormier@buzzfeed.com.
Got a confidential tip? Submit it here.
News moves fast. Keep up with the BuzzFeed News daily email!