The White House press secretary has avoided the land mines that Sean Spicer had a knack of stamping on – but is she any less economical with the truth?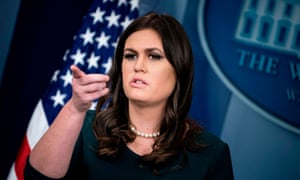 The room at George Washington University was packed with journalists and students as White House press secretary Sarah Sanders walked centre stage. "I'm hoping maybe this crowd is a little bit nicer than the one I sometimes face," she said.
It was. Over the next hundred minutes Sanders staunchly defended her boss, Donald Trump, reeling off a list of his perceived achievements and grievances. Five White House correspondents took her on but, in an atmosphere more collegiate than combative, she brushed them aside with a mix of zealous certainty, down-home charm and wry jokes. The 35-year-old was lavished with praise for showing up and roundly applauded by audience members, some of whom raced forward in the hope of a handshake or photo.
Vehement critics of Trump who observed the convivial scene at the White House Correspondents' Association event in Washington on Monday might have felt they had stumbled into a parallel universe. From their perspective, Sanders is an apologist for the dangerous demagogue and white supremacist who occupies the White House. But her adept performance underlined how, with greater subtlety than her hapless predecessor Sean Spicer, Sanders has effectively become Trump's normaliser-in-chief.
Frank Rich, an executive producer of the TV comedy series Veep who is also a writer-at-large for New York magazine, said: "I do find her somehow more sinister because she is slicker than he was at spewing nonsense and challenging the right of the press to ask questions. But I do feel people's minds are made up: I think a third of the country is with him no matter what and two thirds is determined to oppose him. Nothing she says is going to change that."
Politics and religion have been central to Sanders' life. She was born in Hope, the small town in Arkansas that also produced former president Bill Clinton, and went to Central high school in Little Rock, where in 1957 nine African American teenagers braved violent protests to attend school after the supreme court outlawed racial segregation. When she was 15 she watched Clinton and her father, Governor Mike Huckabee, open the school doors for the Little Rock Nine to mark the 40th anniversary.
Sanders has recalled a childhood of stuffing envelopes, knocking on doors and putting up yard signs for her father's election campaigns. Aged 25, she helped him to a surprise win in the 2008 Iowa caucus for the presidency (he later fell away and became a host on Fox News). She worked in legislative affairs for education department under George W Bush and, in 2011-12, she worked as a consultant for Bono's anti-poverty ONE campaign. She was Spicer's deputy when the Trump administration took office and stepped up when he quit in July, becoming the third woman and first mother to serve as White House press secretary.
Once, when challenged about disarray in the West Wing, Sanders, who wakes up at 5am each day, quipped: "If you want to see chaos, come to my house with three pre-schoolers. This doesn't hold a candle to that." Her children's artwork, including several hearts, is pinned to a board behind her desk in the west wing office she inherited from Spicer. The desk also has a flagpole with the stars and stripes beside it, and a giant photo of Trump's joint press conference with Theresa May sits above the fireplace, next to two TVs. A fruit bowl has been placed on a meeting table that is surrounded four chairs on the blue and white carpet. Next to the office door is a photo of Air Force One beneath a vast blue sky.
A Southern Baptist, Sanders reads from a book of Christian devotionals before every press briefing. Her presence gives heart to religious conservatives who allege that they have been marginalised and mocked for years by liberal America. David Brody, chief political correspondent for CBN, told the Washington Post that when Sanders speaks on the Christian network's pro-Trump talk show, "the social media director said he has never seen so many emoji hearts. She has a charm about her. She's feisty but in a bless-your-heart sort of way."
That approach has changed the tone of the daily briefing and, for some, rendered it no longer the "must see" television it was when Spicer was at the podium. Michael Cornfield, associate professor of political management at George Washington University, said: "Sanders seems every bit as loyal to her boss as Spicer, and every bit as indifferent to truth-telling even when evidence makes a statement patently false. The big difference between Sanders and Spicer lies in their entertainment value, which is the only value to watching White House news conferences that remains after decades of decline in the power of presidential news correspondents."
Spicer notoriously used his debut as press secretary to tear a strip off the media over its reporting of Trump's inauguration crowd size, then made a series of spectacular gaffes, for example claiming that Adolf Hitler did not use chemical weapons against his own people and referring crassly to "Holocaust centres". All this resulted in an unforgettable parody by Melissa McCarthy with a motorised podium on the TV comedy show Saturday Night Live.
Sanders, however, gives shorter answers, often pleading ignorance and promising to get back to the questioner, and has delivered fewer incendiary soundbites. Even when she does cross the line – saying that an TV host who called Trump a white supremacist should be fired, or asserting that it is "inappropriate" to challenge the word of a military general – she is generally given an easier ride. Her feisty-folksy manner is proving a more elusive target for journalists and satirists than Spicer's blunt-instrument approach, and her Saturday Night Live portrayal – by Aidy Bryant – has not gained anything like the same infamy.
On Monday night's panel, Glenn Thrush of the New York Times, while delivering a withering takedown of Trump, offered this testimony: "In praise of Sarah, and the way she has handled the briefing room, I give her incredibly high marks for lowering the temperature and engendering an environment of mutual respect."
Olivier Knox of Yahoo News told the audience: "Here's a big contrast between the Sean Spicer era and the Sarah Sanders era. Since Sarah took over, not one person in the White House press shop has peddled me a single poisonous story about Sarah; that was not true under Sean. I can't even describe the kind of garbage that they were peddling to, I think, a lot of us on this panel about Sean, really personal stuff, trying to undermine him. That has not happened under Sarah. And so credit to you [Sanders], I think, for that. It operates very, very differently."
And April Ryan of American Urban Radio Networks drew attention to Sanders' gender. She told the press secretary: "When Sean left you picked up the mantle, and you charged in. And I understand as a woman in that role, and who you work for, you have to come out and show you take no prisoners. You do that. It's a friendly adversarial relationship – when you don't like something, you make it known. I've seen you give and I've seen you take and I'm not giving you flowers or anything. I understand being a woman in this male dominated business and I understand who you have to respond to."
But other observers believe that gender has worked to Sanders' advantage. Rich Galen, former press secretary to Republican stalwarts Dan Quayle and Newt Gingrich, said: "I think she's getting a better deal than Sean Spicer got and it's because she's a female. She's no less ignorant of the truth, no less ready to call out legitimate media organisations as 'fake news', no less ugly to reporters. I think if she was male rather than female she'd be hounded out of there like Sean was."
For her part, Sanders follows the Trump creed of never back down, never apologise. Far from being Daniel in the lions' den on Monday night, she used the platform to echo her boss's complaints of victimhood as she reflected on White House briefings. "Often times it's not even the nature of the question; it's the way the question is asked," she said. "So often I feel like the question always comes from a place like an accusation, instead of just asking, looking for information. It's more like: 'You're a horrible person. Please tell us why.' I think there's a difference between a political tone and a hateful tone."
She added: "I've never been attacked more, questioned more. I mean, I was called a liar by a major network in an official statement. I've been called outrageous things on air and it goes unquestioned. There's no pushback. So I think that there has to be an appreciation too for our side, that we're working hard, that we're putting in the hours, we're doing the very best we can to represent the administration as well, and I think that's often overlooked."
Sanders gives every impression of being a true believer in Trumpism while sidestepping the land mines that Spicer had an uncanny knack of stamping on. That, to those who believe "if you're not outraged, you're not paying attention", is what makes her so insidious and dangerous.
Clio Chang wrote in the New Republic last month: "Her list of lies is lengthy, in keeping with the respect the White House has for the intelligence of voters. But the truth is that she's better at it than Spicer, who seemed to be tripped up by his lies. Perhaps his stumbles even betrayed his sense of guilt, whereas Sanders shows nothing. She is superior to her predecessors, and thus infinitely worse for the country. This is why her placid gaze is so disturbing: It is the face of a White House whose deceptions and outrages have become all too normal."