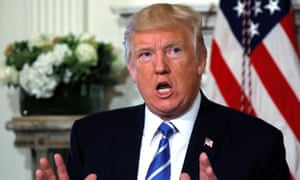 China's president, Xi Jinping, has told Donald Trump in a phone call that all sides should avoid rhetoric or action that would worsen tensions on the Korean peninsula, according to Chinese state media.
Reports quoted Xi as saying: "At present, the relevant parties must maintain restraint and avoid words and deeds that would exacerbate the tension on the Korean peninsula."
Trump has pushed China to pressure North Korea to halt a nuclear weapons program that is nearing the capability of targeting the United States. China is the North's biggest economic partner and source of aid.
Trump on Friday went further to turn the crisis into a personal battle of wills between him and Kim Jong-un, warning the North Korean leader he would "truly regret" hostile acts against US territory or US allies.
The warning came a few hours after an early morning tweet from the president that claimed US military options were "locked and loaded" for use if Pyongyang "acted unwisely".
The tweet triggered worldwide alarm and a rebuke from the German chancellor, Angela Merkel, who said: "I consider an escalation of rhetoric the wrong answer."
But Trump stood by his words when asked about them at his golf resort in New Jersey.
"I hope they are going to fully understand the gravity of what I said, and what I said is what I mean," Trump said. "Those words are very, very easy to understand."
He then issued an ultimatum to Kim Jong-un himself. "This man will not get away with what he's doing," he said. "If he utters one threat in the form of an overt threat ..or if he does anything in respect to Guam or anyplace else that's an American territory or an American ally, he will truly regret it and he will regret it fast."
The North Korean leadership has warned it will launch four missiles at the waters around US Pacific territory of Guam as a warning to the US if it persists with its practice sorties by long-range bombers based on the island.
Despite gung-ho language from the US president, there was no change in US deployments in the region or a change in the alert status of US forces. And it was reported on Friday that the Trump administration had reopened a channel of communication between US and North Korean diplomats at the UN.
According to the Associated Press, the "New York channel" had been broken off by North Korea in protest against sanctions in 2016, but it was revived this year between Joseph Yun, the US envoy for North Korea policy, and Pak Song-il, a senior North Korean diplomat at the country's UN mission.
The US state department said it had no comment on the report. It had previously been reported that there had been diplomatic contacts about US detainees in North Korea, but the new AP account said the talks addressed wider issues, although such contacts had so far failed to moderate the exchange of threats between the leaders of the two countries.
Asked about the report on Friday, Trump said: "Well, we don't want to talk about progress, we don't want to talk about backchannels.
"We want to talk about a country that has misbehaved for many many years – decades, actually – through numerous administrations, and they didn't want to take on the issue and I had no choice but to take it on, and I'm taking it on. And we'll either be very, very successful quickly or we're going to be very, very successful in a different way, quickly."
As for Merkel's criticism earlier in the day, Trump said: "Maybe she's speaking for Germany; let her speak for Germany. She's a friend of mine, she's a very good person, a very good woman, she's a friend of Ivanka. Perhaps she is referring to Germany. She's certainly not referring to the United States, that I can tell you."
In his comments, Trump made it clear that domestic political considerations played a role in shaping his rhetoric.
"If somebody else uttered the exact same words that I uttered, they'd say: 'What a great statement, what a wonderful statement,'" Trump said. "But I will tell you, we have tens of millions of people in this country that are so happy with what I am saying, because they say, 'Finally, we have a president that's sticking up for our nation and frankly, sticking up for our friends and our allies.'"
Speaking to reporters in California, the US defence secretary, James Mattis, said a conflict on the Korean peninsula would be "catastrophic" and stressed that US diplomats should take the lead in resolving the crisis.
Mattis pointed to a UN security council vote at the weekend for more sanctions against North Korea as a sign that diplomacy was making progress.
However, the new tweet sent out by Trump at about 7.30am from his golf resort in Bedminster, New Jersey, put the emphasis back on the use of force:
A White House official later played down the significance of the tweet, saying there were continuously updated military contingency plans for any global crisis. "This isn't anything new," the official said, according to CNN.
The contingency plan for war on the Korean peninsula, Oplan 5027, envisages a build-up of the US military, including half the US navy and more than 1,000 aircraft in the region, over 90 days. More than 200,000 US civilians would also have to be evacuated.
Later on Friday morning, the president retweeted US Pacific command, which had posted pictures of B-1B Lancer heavy bombers on exercises over the Pacific with the Japanese and South Korean air forces on 7 August, accompanied by text saying the planes were ready to fulfil the "ready to fight tonight" mission of US forces in South Korea, "if called upon to do so".
Trump's messages continued a war of words between the president and North Korea that ignited on Tuesday when Trump, following reports of a breakthrough in Pyongyang's weapons programme, threatened to unleash "fire and fury like the world has never seen" on North Korea if the regime continued to threaten the US.
Kim Jong-un's government responded the next day by deriding Trump's remarks as a "lot of nonsense" and publishing detailed plans to launch missiles to land in the waters around the US Pacific territory of Guam.
Pyongyang has warned that continued practice sorties by B-1B bombers over South Korea would trigger the launch of the four Hwasong-12 intermediate-range missiles that would be aimed at the waters around their base on Guam.
"This grave situation requires the KPA [Korean People's Army] to closely watch Guam, the outpost and beachhead for invading the DPRK, and necessarily take practical actions of significance to neutralize it," a KPA spokesman said on the state news service.
It added that the missile launch, if ordered, would aim "to contain the US major military bases on Guam, including the Anderson air force base, in which the US strategic bombers, which get on the nerves of the DPRK and threaten and blackmail it through their frequent visits to the sky above South Korea, are stationed, and to send a serious warning signal to the US".
The B-1 bombers have been modified so as to be non-nuclear capable, but the North Korean statement identifies them as "nuclear strategic bombers", one of many examples of misperceptions and overheated rhetoric that fog the Korean standoff.
"The United States should think carefully about authorizing further B-1 flights. Leadership may decide to defy the North Korean threat, but should make that decision consciously and take measures to limit the risk of that action," said Adam Mount, an expert on North Korea at the Center for American Progress.
The Guam authorities issued new emergency guidelines on Friday that included advice of what to do in the event of a nuclear attack.
"Do not look at the flash or fireball – it can blind you," the fact sheet said. "Take cover behind anything that might offer protection."
Asked about the potential for military confrontation, Mattis told reporters it was his responsibility to prepare "military options should they be needed".
But he warned: "The tragedy of war is well enough known; it doesn't need another characterization, beyond the fact that it would be catastrophic."
Alongside its missiles and nuclear warheads, North Korea has thousands of pieces of heavy artillery, capable of inflicting devastating damage on Seoul.
The US has about 35,000 troops stationed in South Korea and 40,000 in Japan. They have not been put on a higher alert or redeployed in recent days despite the heated rhetoric.
Malcolm Nance, a former naval intelligence officer, said that there had been none of the normal indicators of heightened alert at US bases in the region.
"We are not ready for even a small action size of Libya much less Korean War 2.0," Nance said in a tweet. "This talk of Locked & Loaded is irresponsible madness."
However, large-scale air, sea and land exercises are planned for later this month, which could ratchet tensions up further.
Trump was due to interrupt his working holiday for a lightning visit to Washington on Monday, according to one report. But it was not clear whether the trip was connected to the North Korean stand-off, and there are secure facilities at his Bedminster golf club where he can discuss national security matters.
The North Korean military has said its planned missile test aimed at the sea around Guam will be ready for launch on orders of the country's leader from mid-August.
In his remarks, however, Mattis repeatedly underlined the role of diplomacy and non-military pressure on Pyongyang, and the key roles played by the secretary of state, Rex Tillerson, and the US envoy to the United Nations, Nikki Haley.
"You can see the American effort is diplomatically led," Mattis said. He added: "It has diplomatic traction. It is gaining diplomatic results. And I want to stay right there right now."