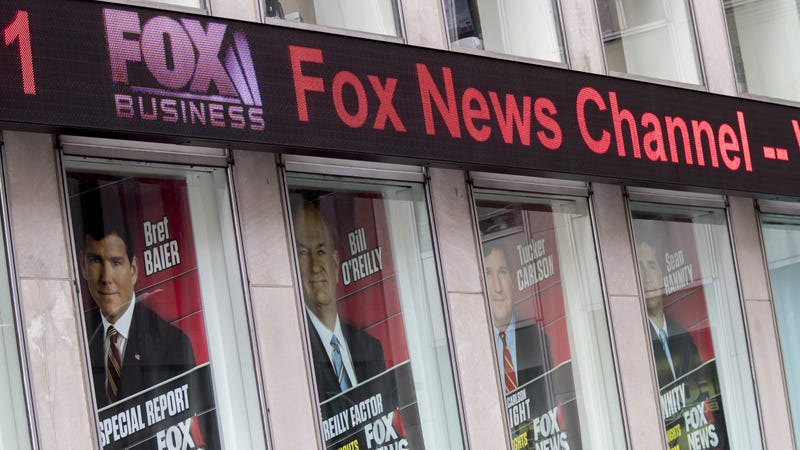 It's a sleepy Friday afternoon on the East Coast, but that doesn't mean there isn't some weird stuff going on. This time, it's coming out of a department at the Food and Drug Administration, where a group of employees allegedly received an email informing them that office TVs would now play Fox News due to a "decision from the current administration administrative officials."
The alleged email, which was first uncovered by science reporter Paul Thacker, was sent to researchers at the Center for Biologics Evaluation and Research on Wednesday. According to Thacker's screenshot of the email, employees at the FDA's White Oak Campus in Maryland were told that TVs would now play Fox News rather than CNN, and that the sender was "unable to change any of the monitors to any other news source at this time."
A different FDA employee provided Gizmodo with a copy of the same email, which also included the name of the person who sent it. (We were unable to reach the sender.) The employee we spoke to, who asked we not use his name for fear of retaliation, said he noticed the switch to Fox News about two days ago. He added that the switch had become a "gossip item" among FDA employees. The email, he told us, was sent in response to questions from a number of employees about the switch.
He also said that he noticed today that at least one monitor had switched back to CNN; a report in the Wall Street Journal included a similar claim. A number of other FDA employees in the CBER division reached by Gizmodo refused to comment.
An FDA spokesperson, however, provided Gizmodo with the following statement, which seemingly contradicts what was described in the email:
There was no directive or memorandum from the Administration that went out to employees about broadcast news channels displaying on monitors in common areas throughout the FDA's White Oak campus.
That leaves us with several theories. One, the email was faked, and Paul Thacker, Erik Wemple, and Gizmodo were tricked by troublemakers at the FDA. (According to ThinkProgress, however, the FDA "didn't dispute the validity of the email.") Two, both the email and the directive from the administration are real, and the FDA is bullshitting us. Three, there was some miscommunication that led the person who sent the email to believe they were required to switch all monitors to Fox News, but that wasn't in fact required. Four, there wasn't a "directive" or "memorandum" per se, but some other instruction that the FDA feels comfortable pretending didn't happen. Finally, there's also a possibility that some discrepancy exists between the monitors the FDA spokesperson refers to and the ones mentioned in the email. (The spokesperson declined to clarify that for us.)
If true, the idea of mandating a certain TV news outlet should be played at a government building is kind of disturbing, but not outside the realm of possibility: We know Trump loves Fox, and just yesterday congratulated Fox & Friends for its ratings. It also raises other questions, however. Is it just the FDA? Are other agencies required to subject their employees to America's Newsroom and Outnumbered?
If you are an FDA employee and want to share more information about this with us, please do so: libby@gizmodo.com.