Trump's Already Small Circle Of Trusted Advisers Suffers Another Big Blow
Attorney General Jeff Sessions can no longer protect the president from investigations involving Russia.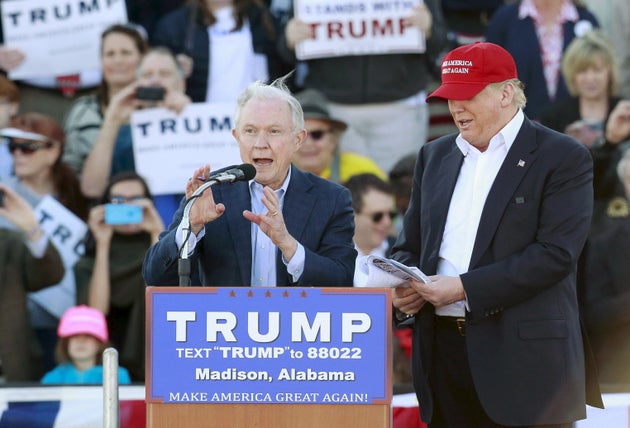 WASHINGTON – When you get to the White House with such a tiny band of brothers, each and every one seems that much more indispensable.
Or so it must seem to President Donald Trump who, just five weeks into his term and two weeks after having to fire his national security adviser, has now watched his closest Cabinet ally neutered in a key role.
Attorney General Jeff Sessions announced Thursday that he was recusing himself from any investigations pertaining to the Trump campaign, following the revelation that he spoke with Russian ambassador Sergey Kislyak twice last year, despite having testified under oath during his confirmation hearings that he had no contact with any Russians.
"I have now decided to recuse myself from any existing or future investigations of any matter relating in any way to the campaigns for president of the United States," Sessions said at a hastily called news conference.
The attorney general is the one Cabinet member of any presidential administration with the independent authority to launch investigations that could undo the presidency. In Trump's case, that danger became plausible even before he took office, with U.S. intelligence agencies reporting that Russia had meddled in the presidential election with the goal of electing Trump.
Sessions' decision to stay out of any of the probes underway now, or to come at some point in the future, means he can no longer shield Trump from the results.
For Trump, it was another serious blow in an infant presidency that has racked them up, one after the other, since Inauguration Day. Some have involved missteps by the administration ― the chaos generated by a hastily drawn executive order banning travel from seven majority-Muslim nations, for example, or Trump's insistence that there were "millions" of "illegal votes" in the November election
But many come back to Russia, and a series of revelations about its intelligence agencies' role in hurting Democratic nominee Hillary Clinton and helping Trump by stealing private emails from key Democrats and releasing them through the group Wikileaks over the final weeks of the campaign.
Trump has found himself at least one step behind the storyline ― his only response issuing angry tweets about the intelligence community and their leaks.
So it was again Thursday. Less than two hours before his attorney general announced he was recusing himself, Trump was visiting an aircraft carrier in Newport News, Virginia. He told reporters he didn't think Sessions needed to recuse himself, and expressed "total" confidence in him.
That response was similar to Trump's initial defense of his first national security adviser, Michael Flynn, after it became known that he, too, had spoken to Kislyak. Those conversations took place immediately after former President Barack Obama expelled 35 suspected Russian spies from the country in retaliation for Russia's election meddling. Trump did nothing for three weeks after learning details about Flynn's conversations with Kislyak, but then asked for Flynn's resignation after those details were leaked to the press.
For the tight-knit group of early Trump supporters now atop the federal government, it was a major setback, one that seemed to go against a common mythology of how Trump operates.
"In the Trump arena, loyalty is very important," said Michael Caputo, a former Trump campaign aide. "It was a bruising campaign, and the Republican candidate took a lot of shots from inside the Republican tent."
It also meant that an outsider was put in charge of implementing Trump's foreign policy. Flynn's replacement as national security adviser, Army Gen. H.R. McMaster, has a reputation for no-nonsense directness. He reportedly has already told the National Security Council and the president himself that the term "radical Islamic terrorism" ― a favorite of Trump and many conservatives ― was counterproductive in the actual battle against terrorists.
The sidelining of Sessions may be even tougher for Trump to swallow.
The attorney general's relationship with Trump goes back further than the one he had with Flynn, who endorsed Trump in 2015. In 2014, Trump donated $2,000 to Sessions' Senate re-election campaign, even though the senator was unopposed. And when Trump began running for president, it was the Alabama Republican who served as a sounding board. Trump decamped to Sessions' Senate office after attending an anti-Iran nuclear deal rally on Capitol Hill last summer. And he plucked Sessions' top communications aide, Stephen Miller, to develop policy and write speeches.
An aide who worked with Trump said he thought the senator was "tough." The two bonded both over policy goals and a shared sense of ostracism from the Republican Party writ large.
"He was resolute on what he believed in, but wasn't treated well by the caucus," said the aide, who spoke on the condition of anonymity. "And Trump has been saying the same stuff he has been saying on trade and foreign policy and on immigration. So ideologically, they were aligned."
When Sessions formally became the first sitting senator to back Trump in early 2016, he earned a spot in the soon-to-be nominee's inner circle. His standing to ask for and receive the Cabinet job he wanted was likely cemented in the autumn, in the aftermath of a leaked "Access Hollywood" tape that sent many Republicans fleeing from the top of their ticket.
Sessions, a former U.S. attorney and Alabama attorney general, in contrast went so far as to opine that what Trump bragged about on the tape – grabbing a woman by the genitals – would not be sexual assault. "I don't characterize that as sexual assault. I think that's a stretch," Sessions said in October.
New Jersey Gov. Chris Christie, another early Trump backer, called Trump's recorded boasts "completely indefensible" and said he would not even try to do so. Like Sessions, Christie coveted the attorney general job. Unlike Sessions, he didn't get it.
That Sessions ended up at the Justice Department didn't surprise Hill Republicans. The job was the one he wanted and, as a loyalist, he got his pick. And for Trump, it meant putting someone he could personally trust, and who largely shared his governing philosophy, in a post that is ostensibly independent from the White House.
With his administration under increased scrutiny over its connections to Russian officials, Trump will no longer have his trusted ally in that critical post. What that means for his political future depends, to a large extent, on what Deputy Attorney General Dana Boente now does with his responsibilities to oversee the investigation.
Regardless, Democrats aren't done with Sessions. Minnesota Sen. Amy Klobuchar, who sits on the Judiciary Committee, told The Huffington Post that she still wants the attorney general to explain why he gave members misleading information about his meetings with Russian officials. As for Trump, she said her party will continue to push for calls for an independent prosecutor to look into the Russia ties.
"There are people like myself who just won't let this go," Klobuchar said. Democrats may be out of power, she conceded, "but we can sure keep on the pressure."