Federal Reserve Bank of New York President William Dudley said U.S. regulators, despite having made the financial system safer and less prone to panics, still had not eliminated the threat posed by institutions considered "too big to fail."
"This is work that we absolutely must complete," he said in prepared remarks he's scheduled to deliver Saturday at a conference on financial regulation in New York. "Without a well-functioning resolution process, the consequences of such a failure could still be catastrophic."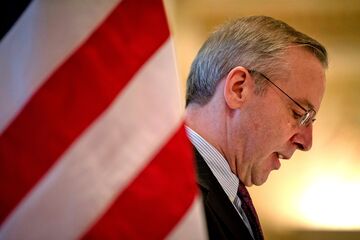 Dudley's comments come amid uncertainty over how far the incoming administration of President-elect Donald Trump will go in dismantling rules designed to prevent a recurrence of the financial crisis of 2007-2009. Republicans in Congress are preparing legislation that would roll back much of the 2010 Dodd-Frank Act that included regulations designed to prevent a repeat of the meltdown.
Dudley said the U.S. financial system was "much more resilient" than it was before the crisis, as reforms had made banks better able to absorb shocks and had removed structural issues that made the system more vulnerable.
'Big Problems'
Still, banks had not yet done enough to allow for their own orderly resolution in an emergency, he said.
"This requires having clean parent holding company structures, less corporate complexity, and essential service and support operations that are able to continue to operate even when the parent company becomes non-viable," he said.
Dudley also said banks had not done enough to encourage whistle-blowing to expose wrongdoing at an early stage. "Big problems can be nipped in the bud when people speak up and senior management responds appropriately," he said.
Dudley didn't talk about his economic outlook or monetary policy. Fed officials are set to enter a quiet period on Tuesday ahead of their Dec. 13-14 meeting, when analysts and traders widely expect them to raise their benchmark interest rate for the first time since late last year. Other U.S. central bankers in recent days have signaled their willingness to tighten monetary policy this month, as the jobs market shows signs of improvement and inflation moves closer to the Fed's target.
A Labor Department report on Friday showed hiring increased in November and unemployment fell to a nine-year low of 4.6 percent.