WASHINGTON ― When Japanese Prime Minister Shinzo Abe became the first foreign head of state to meet in person with President-elect Donald Trump, a photograph taken of the official event at Trump Tower in Manhattan showed a curious attendee: Trump's daughter Ivanka.
The appearance of Ivanka Trump, who is executive vice president of development and acquisitions for the Trump Organization, raises alarm bells for those concerned about the unprecedented potential for conflicts of interest involving the incoming president.
With her two brothers, Don Jr. and Eric, Ivanka has taken the reins of her father's vast global business empire through a so-called blind trust. (It is not a blind trust.) At the same time, the three adult children are on Trump's transition team, giving him advice and, apparently, meeting with dignitaries from countries where they could do business in the near future.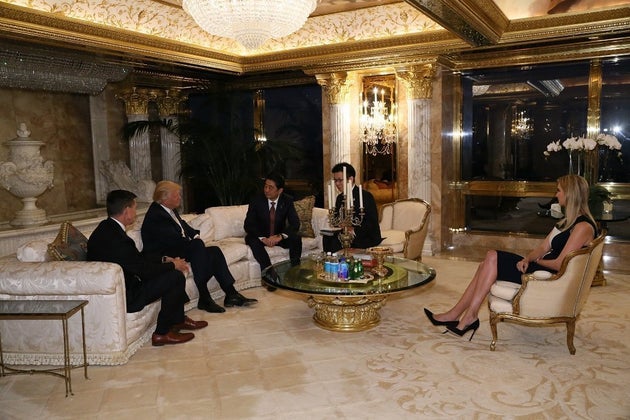 "They shouldn't be on the transition team because they're going to be running the business," said Richard Painter, who was White House ethics czar under George W. Bush. "I don't know why they're on the transition team. It's a clear conflict of interest."
Federal conflict-of-interest laws do not apply to the president, but that does not mean that Trump's business holdings do not create the appearance of conflicts if not actual conflicts. They are, in fact, unprecedented.
No president has ever held a fortune that spans the globe. He has licensed his name to buildings in far-flung countries, including Azerbaijan, Indonesia, the Philippines, South Korea and Turkey. Some are allies, some are ruled by autocratic dictatorships and some are at odds with American interests. Further, he owes hundreds of millions of dollars each to the government-owned Bank of China and the privately owned Deutsche Bank. The Trump Organization has plans to continue to expand the company around the globe during its namesake's presidential administration.
Not only do these foreign holdings, debts and future deals present imminent conflicts of interest for American foreign policy, but they also create an immediate constitutional concern. The U.S. Constitution's emoluments clause states that no government official shall receive favorable payment from a foreign government, foreign government-owned company or foreign official without the consent of Congress. It is, in essence, an anti-bribery clause preventing foreign corruption.
"Any of those types of arrangements, including bank loans from the Bank of China, would need to be unwound or you could have an accusation that it violates the emoluments clause," Painter said.
This isn't the only Chinese government-owned bank in business with Trump. The Industrial and Commercial Bank of China's United States headquarters are in Trump Tower in Manhattan. This government-owned bank pays rent directly to Trump through the Trump Organization.
You can't have conflicts of interest that are that significant, present those to the public and have a straight face about it. Rep. John Sarbanes (D-Md.)
The emoluments clause could also come into play when Trump's business sells condos at its properties or partners with foreign investors in the United States or other countries. A condo sale to a foreign dignitary could be seen as an emolument, especially if it were above the market rate. Any partnership with a royal family member in the Middle East or elsewhere could potentially violate the emoluments clause.
Both of these situations, though, could be shielded from the public. Condo buyers in some cases can hide their purchases behind a limited liability company (LLC), and Trump has refused to disclose his investment partners in any of his businesses. The partnership issue could be alleviated if Trump disclosed his tax returns; he is the first president elected in nearly 60 years to have not released his tax returns.
Trump's conflicts of interest are not solely limited to his overseas holdings.
Sitting about one mile from the White House in the heart of Washington is the Trump International Hotel. It is Trump's most imminent conflict of interest.
The Trump Organization, through a connected LLC, operates the hotel on a 60-year lease from the General Services Administration, a government contracting agency. That lease specifically states that "no … elected official of the Government of the United States … shall be admitted to any share or part of this Lease, or to any benefit that may arise therefrom." Federal anti-corruption laws further prohibit government employees from holding government contracts.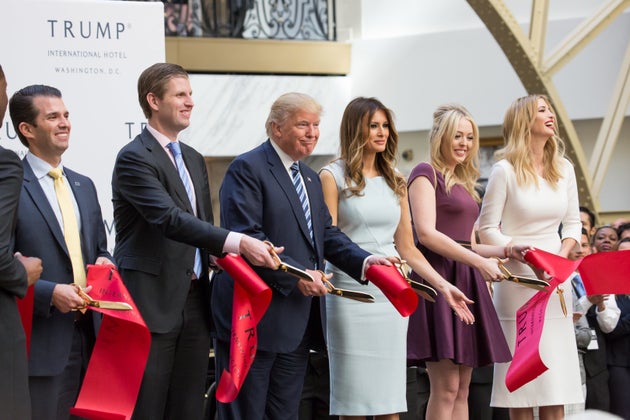 When Trump comes into office, he will appoint a new head of the GSA, who will run an agency that will negotiate the lease with Trump's children annually. This creates a huge imbalance of power for the agency and its career civil servants, raising obvious questions about whether the government can get the best deal for the public.
Trump will also get to appoint new members to the National Labor Relations Board, which has two vacancies. This independent agency enforces labor law and investigates unfair labor practices or the illegal suppression of collective bargaining. On Nov. 3, the NLRB ruled in favor of workers who voted to form a union at the Trump International Hotel Las Vegas. After workers voted to unionize, Trump refused to acknowledge them or to meet with them. The board ordered Trump to start bargaining toward a contract. The Trump hotel is now appealing the NLRB ruling to the U.S. Court of Appeals.
With the ability to reshape the NLRB, Trump could remake the board in a way that favors his business interests.
An entirely different brand of conflict of interest cropped up after the whole Trump family appeared on CBS' "60 Minutes" on Sunday. Ivanka Trump appeared wearing a $10,800 bracelet from her personal jewelry brand. After the show, an email went out from her company hawking the bauble, an apparent attempt to use the presidency and the fame it affords to sell consumer goods. Her company apologized and blamed it on "a well-intentioned marketing employee."
These conflicts also extend to one of Trump's closest aides, his son-in-law, Jared Kushner. Kushner, the 35-year-old husband of Ivanka Trump, serves on the executive committee of his father-in-law's presidential transition. His brother, Josh Kushner, happens to run a multibillion-dollar health care start-up called Oscar that relies on Obamacare for its existence. In addition, Oscar investor Peter Thiel also sits on Trump's presidential transition executive committee. This could create a personal conflict of interest when discussions of repealing and replacing Obamacare occur.
Even though they do not have control of either chamber of Congress, Democrats will seek to impose some level of accountability on the president-elect and his business empire. They hope some Republicans are concerned as well.
"You can't have conflicts of interest that are that significant, present those to the public and have a straight face about it," Rep. John Sarbanes (D-Md.) said.
Rep. Elijah Cummings (D-Md.), the ranking Democrat on the House Oversight Committee, has already called for hearings on Trump's "blind trust." In a letter to Rep. Jason Chaffetz (R-Utah), chairman of the Oversight Committee, Cummings wrote, "Mr. Trump's unprecedented secrecy and his extensive business dealings in foreign countries raise serious questions about how he intends to avoid conflicts of interest as president."
Rep. Katherine Clark (D-Mass.) introduced legislation that would extend the federal conflict-of-interest law to cover both the president and vice president. This would mean that Trump would have to place his holdings into an actual blind trust, not a trust he claims his children will run.
In a statement, Clark said, "Every recent president in modern history has taken steps to ensure his financial interests do not conflict with the needs of the American people. The American people need to be able to trust that the President's decisions are based on the best interests of families at home, and not the President's financial interests."
Sarbanes says to expect Democrats to continue to demand that these conflicts of interest be resolved.
"I think Trump's going to give us endless examples or instances of things that on their face are offensive to people's sense of what's proper," he said. "He's already doing it."