Filings for U.S. unemployment benefits were at a four-decade low over the past two weeks as sales prospects encouraged employers to maintain headcounts.
Jobless claims were 246,000 in the period ended Oct. 8, unchanged from the previous week's level, which was revised lower, a Labor Department report showed Thursday in Washington. The median forecast in a Bloomberg survey called for 253,000. The four-week average also fell to the lowest level since 1973.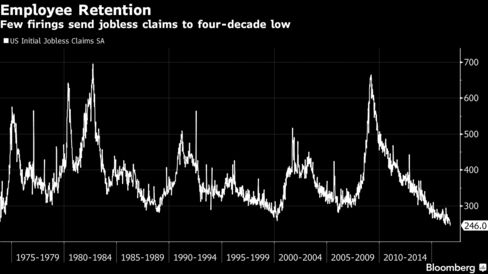 Employers remain reluctant to lay off workers as the pool of potential job candidates dries up and openings remain near record highs, making conditions ripe for wage gains that may spur Federal Reserve policy makers to raise interest rates by year's end. Filings have been below 300,000 for 84 straight weeks — the longest streak since 1970 and a level typical for a healthy labor market.
"These numbers are really remarkable given that the labor force is obviously a lot bigger than it was in 1973," said Patrick Newport, an economist at IHS Global Insight in Lexington, Massachusetts. "They tell us of a relatively healthy labor market."
At the same time, "even though claims are down, there's still slack in the labor market," Newport said.
Total filings in each of the last two weeks were the lowest since November 1973.
Estimates in the Bloomberg survey ranged from 240,000 to 270,000. The Labor Department revised the prior week's reading from an initially reported 249,000.
The four-week average of claims, a less-volatile measure than the weekly figure, declined to 249,250 from 252,750 in the prior week.
Continuing Claims
The number of people continuing to receive jobless benefits fell by 16,000 to 2.05 million in the week ended Oct. 1, the lowest since June 2000. The unemployment rate among people eligible for benefits held at 1.5 percent. These data are reported with a one-week lag.
While there was nothing unusual in the data, two states — Louisiana and Virginia — had estimated jobless claims last week, according to the Labor Department.
States such as Florida, Georgia and the Carolinas may see a pickup in applications for benefits in coming weeks after Hurricane Matthew. Economists at Goldman Sachs Group Inc. project a 10,000 gain in the week ending Oct. 15 as workers displaced by the storm begin to file.
Matthew moved up the Florida coastline on Oct. 7 before making landfall in South Carolina the following day and continuing on to North Carolina, causing flooding and power outages along the way.
Before it's here, it's on the Bloomberg Terminal.
LEARN MORE