June 30
LONDON
In another dramatic turn, Greece made a desperate attempt to halt its plunge into economic chaos Tuesday by requesting a third European bailout even as it hurtled toward default.
The prime minister's office said in a statement that the country was asking for a two-year bailout.
Greece is fast running out of money, having rejected the conditions Europe set for releasing the remaining billions of its existing bailout, which expires at midnight on Tuesday.
Eurozone finance ministers were due to discuss the proposal in an emergency teleconference at 1 pm ET.
The Greek government said earlier that it would not pay the International Monetary Fund the 1.5 billion euros ($1.7 billion) it owes Tuesday.
The 11th hour proposal from Athens for a new rescue won't help the country avoid becoming the first developed economy to default to the IMF.
IMF Managing Director Christine Lagarde said earlier this month failure to pay by June 30 would put Greece in default.
"There is no grace period or two months' delay as I have seen here and there," Lagarde said.
Greece won't have access to IMF's resources until the debt is cleared. The country could ultimately be expelled from the IMF but that might take years.
Related: The very big risks of the Greek debt crisis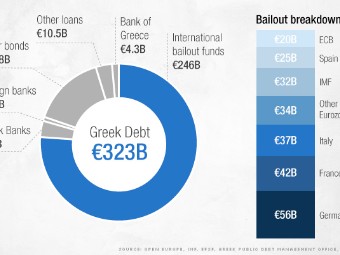 Greece is on its own financially once its existing bailout agreement expires. A national referendum on Sunday — if it goes ahead — could determine the country's future in the eurozone.
Greek banks remain shut Tuesday and limits on cash withdrawals were in place as the country tried to stave off financial collapse before the vote.
Daily withdrawals are limited to 60 euros, or about $67.
The country's banks have been bleeding billions of euros for months, even before the country's debt crisis took a dramatic turn for the worse this weekend, leading to long lines at ATMs in Athens.
Related: Greeks are rushing to Bitcoin
Related: Greek crisis could kill summer tourism
By Virginia Harrison and Chris Liakos June 30, 2015 11:29AM EDT